Birmingham New Street art work to celebrate 100 years of women's suffrage.(Network Rail)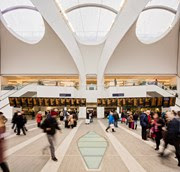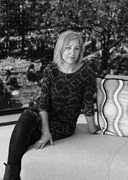 Example of artwork, Birmingham New Street,Patrick Power(station manager) and  Helen Marshall from The People's Project.(Network Rail Images)
Birmingham New Street is to host a unique art installation which celebrates 100 years since women first got the right to vote.
The 'Face of Suffrage' artwork will be a floor-based, 200 metre-square photo mosaic consisting of more than 3,500 images of females from across the West Midlands and beyond.
It will be made up of a combination of historical images of women involved in the suffragette movement from the West Midlands in the early 1900s and of pictures of females from today.
When viewed from above, the mosaic will show a leading face – still to be decided – from the suffrage movement in the West Midlands.
Birmingham New Street, which has 170,000 passengers every day, was chosen because it's large concourse provides an ideal space to host the art work and the railway from Birmingham was important in transporting people to London in support of the movement.
The mosaic will be created by artist Helen Marshall, of the People's Picture, who has installed similar projects across Britain marking other historic occasions.
Women from across the West Midlands are invited to submit their own picture to be part of the mosaic and there will be opportunities at the station to have photographs taken as well – the first of which will be on Monday 1 October from 10am.
To submit your photograph to be included, visit www.thepeoplespicture.com/thefaceofsuffrage.
Pat Power, Birmingham New Street station manager, said:
"The West Midlands had a significant suffragette movement and hundreds of women travelled from Birmingham to London as part of the movement. New Street station is the perfect location for this thought-provoking piece of art.

"Equality is at the heart of our organisation and we actively encourage women to consider a career in the rail industry which will be both rewarding and exciting."
Helen Marshall, the artist behind the art work and from The People's Project, said:
 "I am thrilled to have the opportunity to show such a huge art work in such an exciting public space.

"The idea came from my personal experience as a female achieving my dream to be an artist and for the wish for women to become more visible, as they have been so invisible throughout art history, both in the representation in portraiture and as artists in their own right.

"My work is about breaking down boundaries between professional and amateur photography and also amongst people. I truly hope everybody will feel compelled to send in a photo and be part of this celebration."
The artwork will be on display from Thursday 15 November to Friday 14 December – the day which marks the 100th anniversary of women voting for the first time.
There will be events taking place in Birmingham during the display period to celebrate it and learn more about the suffragette movement.
Other supporters of the installation include CrossCountry, Grain (a Birmingham-based arts organisation), Arts Council England, LSE Women's Library, Birmingham City University and Birmingham Hippodrome.
For more information or to upload your photograph to be included in the mosaic visit www.thepeoplespicture.com/thefaceofsuffrage.