Freight train derailment near Coleshill, Warwickshire.(Network Rail)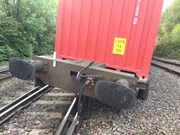 Coleshill Derailed Freight Train.(Network Rail Images)
Passenger services between Birmingham New Street and Nuneaton are being affected following the derailment of seven wagons of a freight train.
The incident at Coleshill, Warwickshire, has also caused significant damage to the track.
Network Rail engineers are working round-the-clock to re-rail the wagons, repair the damage and reopen the railway.
The incident occurred just before 3pm yesterday (Wednesday 12 September). No-one was injured. None of the cargo was spilled.
The cause of the incident is under investigation and Network Rail is working with the Rail Accident Investigation Branch to determine the cause.
Trains are unable to run between Birmingham New Street and Nuneaton. Other services through the area may be disrupted or affected by knock-on delays.
James Dean, chief operating officer for Network Rail's London North Western route, said:
"Our engineers are on site working tirelessly to resolve the issue as quickly as possible.

"We would like to thank train passengers for bearing with us as we work to get services up and running again."
A GBRf spokesperson said:
"We continue to work with Network Rail, our customers and the rail terminal operator  to  ensure the line is  reopened as soon as possible. We will work with the RAIB to ascertain the cause of yesterday's incident."
CrossCountry's commercial director, Ben Simkin, said:
"We would like to apologise to our customers affected by this. Our priority has been to quickly provide alternative arrangements for people needing to travel and to ensure this information is easily available on our website. We will resume our normal service as soon as Network Rail are able to repair the damaged tracks."
The recovery and repairs are likely to take a number of days. Cranes are required to lift the stricken wagons.
Seven wagons of a 32-wagon freight train travelling south from Coleshill freight depot have derailed. Four of these are on their side.
Further updates and timescales will be released over the next few days.
CrossCountry services between Birmingham and Stansted Airport are diverted and not calling at stations between Birmingham and Leicester. A shuttle service is operating between Leicester and Nuneaton, and road transport is being provided between Nuneaton and Birmingham International for onward connections. Customers are advised to check their journey carefully before departing as these changes will inevitably mean longer journeys.
More travel information is available at www.nationalrail.co.uk.