National Refill Day: Station water fountains have saved equivalent of 150,000 plastic bottles from landfill, announces Network Rail.(Network Rail)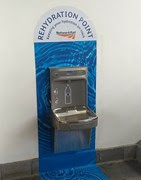 Water Fountain at London Euston Station.(Network Rail Images)
Passengers have saved equivalent of 150,000 plastic water bottles from landfill since introduction of free drinking water at stations
Drinking water facilities are currently located in nine Network Rail stations, with plans to roll-out the initiative to a further 11 stations by the end of the year
Announcement coincides with National Refill Day on 27 September, an initiative by City to Sea which seeks to reduce plastic pollution by encouraging people to refill their bottles
To mark National Refill Day Network Rail has today announced that passengers have helped save the equivalent of 150,000 plastic bottles from landfill through the introduction of free drinking water fountains.
If stacked end to end the bottles would stretch to roughly 35km – 114 times higher than The Shard, or roughly the distance between Central London and Windsor.*
Network Rail's free drinking water initiative first launched in London Charing Cross in February this year and has since been expanded to nine of the country's largest railway stations, including Liverpool Lime Street, Birmingham New Street, Manchester Piccadilly and London Euston, with each location saving the equivalent of up to 1,000 plastic bottles each week.
A further 11 stations are set to have water fountains by the end of the year, meaning passengers in Network Rail stations will have saved up to 368,000 plastic bottles by the end of 2018.
The scheme seeks to encourage passengers and other station users to refill their own multiple use water bottles rather than buying plastic ones, and forms part of Network Rail's wider ambitions to be a market leader in sustainability and reduce the impact of plastic waste at its stations.
The initiative also complements the organisation's recently announced plans to work with retailers to end the supply of plastic cutlery and cups; implement a coffee cup recycling scheme; and expand the roll out of coffee ground recycling in all managed stations by 2020.
Andrew Haines, Chief Executive of Network Rail, said:
"This is one of the many things we are doing to help our country become more sustainable. These small, but important steps, will help provide a healthier and greener future, for passengers and the planet."
David Biggs, Managing Director, Network Rail Property, said:
"Network Rail is proud to support City to Sea's National Refill Day. It's a great initiative, reminding people of an important but simple action they can take to reduce single-use plastics – something that we're committed to doing with our free-drinking water scheme.

"Our water fountain rollout is already going a long way to reducing plastic pollution and it is fantastic to see the progress made so far, with 150,000 bottles saved in 2018 – contributing to the 94% of waste that Network Rail as a company already diverts from landfill.

"The initiative is not only a great example of how we're committed to making our stations more sustainable but shows how we're delivering a great experience for our 900m managed station users, making it as easy as possible for them to refill their bottles on the go. We are also actively encouraging retailers in our managed stations to provide free water to customers where they are able to."
Natalie Fee, founder and CEO of City to Sea, said:
"It's brilliant to have the support of Network Rail during National Refill Day. As the owner of some of Britain's biggest and busiest stations, the organisation can play a crucial role in helping prevent plastic pollution at source by making it easier for people to Refill on the go, reducing the need to buy single use plastic bottles.

"It's been incredible to watch the campaign flourish over the past two years. People want to help stop plastic pollution, and Refill puts the power to do just that in peoples' hands which is what we want to celebrate on National Refill Day." 

"Its water fountain initiative is helping us to achieve our goal of making tap water more widely available in public spaces, and we hope that it will only go on to empower more millions of people to join the Refill Revolution."
The announcement also coincides with Recycle Week, which highlights the importance of sustainability issues and what we can all do to have a positive impact on the environment. Network Rail will continue to work with City to Sea to reduce single use plastic and promote free access to drinking water.
You can share your support for National Refill Day at our water fountains and by using the hashtag #NationalRefillDay. To locate your nearest water fountain and find out when your nearest Network Rail managed station launches its water fountain, download City to Sea's Refill app which is available now.
* – Measurement based on an average 23.5cm 500ml bottle and distance between London and Windsor taken "as the crow flies".
Notes:
Our managed stations:
National stations
London stations
Birmingham New Street
Cannon Street
Bristol Temple Meads
Charing Cross
Edinburgh Waverley
Euston
Glasgow Central
King's Cross
Leeds
London Bridge
Liverpool Lime Street
Liverpool Street
Manchester Piccadilly
Paddington
Reading
St Pancras International

(lower level)

Retail at St Pancras is managed by HS1

Guildford
Victoria
Waterloo
Clapham Junction
About Network Rail Property:
Network Rail Property is the land and commercial division of Network Rail, tasked with generating funds to be reinvested back into the railway.  Our projects help deliver transport and station-led regeneration, housing, jobs and economic growth.
Retailers in Network Rail managed stations already offering free water include:
Costa
Nero
Pret
Fullers
JDW
Leon
Ritazza
Benugo
All Bar One
Natural Kitchen
Carluccios
About City to Sea:
Refill, City to Sea's award-winning campaign to get people ditching single-use water bottles in favour of reusable bottles, is the UK's leading 'app for tap' – connecting people looking for water with businesses, water fountains and transport hubs where they can refill for free on the go.
The Refill campaign was started by City to Sea, an award-winning community interest company (CIC) campaigning to stop marine plastic pollution at source. City to Sea was founded by environmental campaigner, Natalie Fee in 2015. In June 2018 the Refill scheme won the 2018 Global Good Awards http://globalgoodawards.co.uk/behaviour-change-citytosea-refill/
Natalie Fee is an environmental campaigner revolutionising the way we think about plastic pollution. She was recently announced as one of Nesta's 50 New Radicals. https://www.nesta.org.uk/feature/new-radicals-2018/natalie-fee/
The Refill campaign works by connecting people who are looking for water with thousands of local business, transport hubs and public spaces using a free app. Participating cafes, bars, restaurants, banks, galleries, museums and other businesses simply sign up to the app and put a sticker in their window – alerting passers-by that they're welcome to come on in and fill up their bottle, even without a purchase.
There are now over 12,000 Refill Stations listed on the app in the UK, including train stations, airports and high street chains like Starbucks, Costa and Greggs. It's being revealed today that John Lewis has now become the first department store to join the refill revolution, and Morrisons are the first supermarket to sign up to the scheme. Heathrow airport has also become the first official transport hub to sign up to the scheme and are pioneering the reduction of plastic bottle pollution in the aviation sector.