New 10-ticket Carnet and Auto Renewal Monthly Season Tickets for South Western Railway customers.(SWR)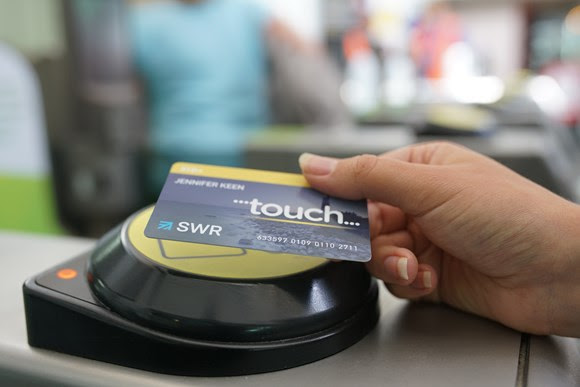 (SWR Image)
Carnet exclusive to the SWR Touch Smart card
Equivalent to 10 Anytime Day return tickets
5% cheaper than equivalent paper tickets
Offers flexibility for part-time workers
Can be used up to two months from date of purchase
 Auto Renewal Monthly season Tickets – buy 11, get one free
South Western Railway has launched a new type of ticket for those who use its trains regularly on the same journey, but not frequently enough to benefit from a season ticket. Among those who will benefit are part-time workers and those who regularly work from home and need flexibility when travelling to and from the workplace.
Customers who have a South Western Railway Touch Smart card can buy a 10-ticket bundle called Carnet. These tickets, which are available at a 5% discount are for use between the same origin and destination station and can be used for unlimited travel between the stations all day. Each ticket is valid for one day up to two months from the date of purchase, giving the customer the flexibility to choose when to use them.
Alan Penlington, South Western Railway's Customer Experience Director said:
"More and more people are working from home these days, and this new Carnet gives them – and those who work part-time, a tremendous amount of flexibility while also offering great value for money with a 5% discount."
Also new to touch Smart card is Auto Renewal Monthly Season Tickets. This allows customers to buy 11 monthly season tickets in succession and get the 12th free, when they pay by direct debit and set up auto renewal on their touch smart card.
Customers wishing to purchase a 10-ticket Carnet for their Touch Smart card can buy them online from the South Western Railway website at https://www.southwesternrailway.com/train-tickets/smart-ticketing/carnet.
Customers wishing to take advantage of the new Auto Renewal Season Tickets can get all the details from: https://www.southwesternrailway.com/train-tickets/smart-ticketing/auto-renewal-monthly-seasons
South Western Railway's Touch smart card is free and available at: https://www.southwesternrailway.com/train-tickets/smart-ticketing/smartcard
Notes:
At the start of each day's travel, when the customer taps in, one Carnet ticket is activated, reducing the overall Carnet ticket balance by one.
Carnet can be used on any SWR service across existing smartcard routes (not valid on TfL services). The customer will get unlimited travel for each day on the route of their ticket and can even stop off at any of the stations between their origin and destination stations
Once bought online, the Carnet ticket bundle can be loaded onto the Touch smart card by touching it at the ticket gate or validator of the chosen collection station. At that time, the first ticket in the bundle will be activated
Each bundle of Carnet tickets is valid for 2 months from purchase and any tickets remaining after that time will expire
The Carnet is available on Adult Standard Class fares only