Templecombe station highly commended in prestigious National Rail Awards. (SWR)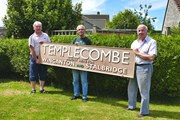 Friends of Templecombe Station and the station nameboard..(SWR Images)
Annual 'National Rail Awards recognise the best in the country
Templecombe nominated in the small station of the year category
Templecombe highly commended by judges
National Rail Awards ceremony held on Thursday 13 September
The Templecombe station team is celebrating this week after they reached the final of the prestigious National Rail Awards.
Templecombe is known as the 'small local station with a national reputation' and was highly commended by judges. The station was nominated for the award by community rail groups, Network Rail, Transport Focus and a panel of industry experts.
All nominated stations were visited by judges and assessed on a number of factors including safety, infrastructure and customer-friendly presentation.
The Friends of Templecombe Secretary, Paul Blowfield, said:
"We are naturally delighted that, for the third year running, the tireless efforts of everyone involved has been recognised.

"We love that we get visitors from all around the country to see our community garden displays."
Phil Dominey, Senior Regional Development Manager for South Western Railway, said:
"Templecombe is famous among railway people like myself across the UK. The Friends of Templecombe have helped put the station on the map as a destination in its own right.

"We're very grateful for everything the Friends do and proud that the station was highly commended yet again in the National Rail Awards."