Train services resume on the Preston-Bolton-Manchester railway as upgrade nears completion.(Network Rail)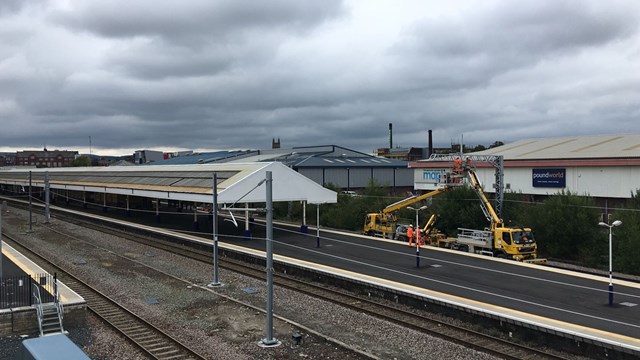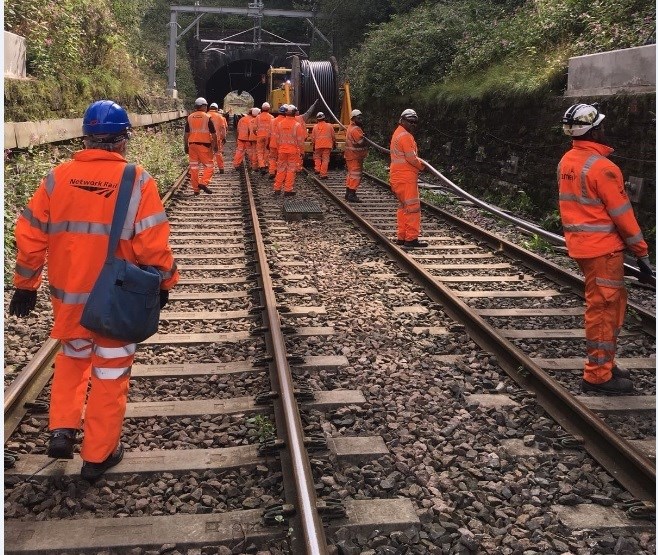 Bolton Station  …and installing power cables to supply new overhead equipment (Network Rail Images)
Mid-week train services between Preston, Bolton and Manchester have resumed today (Monday 3 September) after a nine-day closure to allow engineering work to take place along the route.
As part of the rail industry's multi-billion-pound Great North Rail Project, the route between Manchester and Preston is being upgraded to enable better and more reliable electric trains to run.
Over the past nine days, Network Rail's Team Orange has been working round-the-clock to install overhead electric wires and carry out adjustments to several station platforms on the route.
To date, engineers have installed 78 wire runs out of a total 98. The wires are being attached to more than 1500 newly installed steel structures and will supply power to greener and quieter electric trains.
To complete the upgrade of the railway through Bolton, Team Orange will continue mid-week overnight working and weekend working until Sunday 4 November.
Martin Frobisher, route managing director at Network Rail said:
 "We are very grateful for passengers' continued patience over the last nine days which has allowed us to make excellent progress on the Bolton corridor, as part of the Great North Rail Project.

"This vital work will enable electric-powered, greener, faster, more frequent, more spacious and more reliable trains to run between Manchester and Preston."
For more information on the Great North Rail Project and Railway Upgrade Plan visit: https://www.networkrail.co.uk/our-railway-upgrade-plan/key-projects/great-north-rail-project/