Rail industry thanks passengers as all train services resume at Derby following huge upgrade.(Network Rail)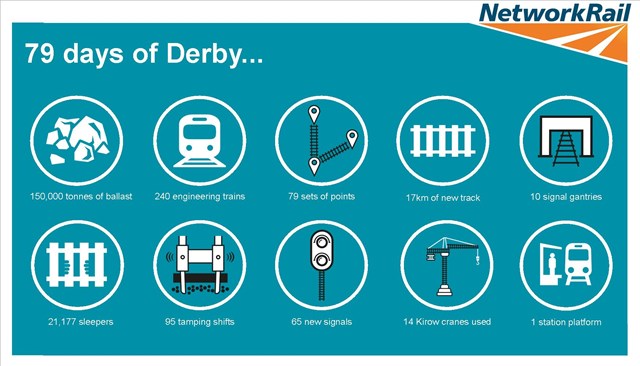 (Network Rail Images)
Rail passengers are joining the celebrations at Derby station today as full rail services resume. Network Rail, East Midlands Trains and CrossCountry are thanking passengers for their patience as the disruptive stage of a huge £200 million upgrade successfully completes.
In the early hours of this morning, the final pieces of equipment and machinery were removed and the lines to the north of Derby station were handed back to East Midlands Trains and CrossCountry to allow the full train service to resume for the first time since Sunday, 22 July.
To thank customers for their patience and understanding over the last 79 days, thousands of free reusable coffee cups (including a voucher for a free coffee), cupcakes and other treats and surprises are being handed out today and throughout this week.
The project was part of the Midland Main Line Upgrade and was the biggest investment into the railway in the area since the Victorian era. Over 600,000 hours of work went into the project, which saw huge improvements to the track and signalling.
The speed which trains can travel through the station has increased and a key bottleneck has been removed, meaning passengers will no longer endure a lengthy wait to enter the platforms. Control of the signalling has also moved from old style, lineside signal boxes to the state of the art control centre. Passengers will benefit from a more modern and reliable railway with reduced delays.
Rob McIntosh, Route Managing Director at Network, said:
"This is a once in a generation investment to improve the railway in Derby and the benefits will be felt across the whole of the East Midlands.

"We're delighted that this work is now complete and we look forward to passengers reaping the benefits. We appreciate that this work has impacted on people and we would like to thank all those affected whilst this vital investment took place.

"We've worked incredibly closely with both East Midlands Trains and CrossCountry to keep people moving and this project is a great example of the rail industry working collaboratively to improve services for passengers.

"Passenger numbers are ever increasing and this upgrade means we can continue to provide a service which meet the needs of the communities and economies which our railway serves."
The project has been delivered in partnership between Network Rail, East Midlands Trains and CrossCountry who have worked together to keep passengers moving throughout the last 79 days. The partnership has put passengers first. Trains have been running for 78 of the 79 days of the work; a huge and a carefully planned rail replacement bus operation has been in place, with 5,494 services provided. In addition, discounted fares and compensation has been provided for passengers on specified routes and dates while more than 32,000 free treats have also been handed out.
Jake Kelly, Managing Director, East Midlands Trains, added:
"I am immensely proud of the hard work and skill shown by our people in planning and delivering this. The Derby Resignalling Project was a very challenging period for everyone but we have come through that exceptionally well and also delivered the upgrade safely, efficiently and reintroduced our full train service from first thing this morning, as planned.

"This investment will improve journeys across the East Midlands and beyond but we understand it has meant an extended period of change and disruption too. I am very grateful and appreciative for the patience and understanding shown by our passengers and we hope they will enjoy the benefits of the investment from now on."
Andy Cooper, CrossCountry's Managing Director, said:
"The completion of these works marks a new high in how Britain's railways are working together to invest in a railway to meet future needs, while ensuring that todays' rail users are still able to travel. A project of this scale was always going to be a challenge, but by working closely with Network Rail and East Midlands Trains we have been able to limit the impact of the work, and to have timely and clear information on any changes to customers' journeys easily available. We know there will have been some disruption, and we would like to thank our customers for their patience.

"These works open a new chapter in the development of our services to the North East. We can now start planning how to make the most of these improvements, including faster and more reliable journeys and strengthening the region's economy with better links to the rest of Britain."
Rail Minister Jo Johnson said:
"This is a key milestone in the Government's rail upgrade programme and is part of the £1.5 billion modernisation of the Midland Mainline.

"Passengers have been incredibly patient during the summer while the huge engineering work has taken place and they will now start to take advantage of the improvements which will deliver more reliable, faster services, with more seats."
Although the project finished on time, there has been some disruption to services today due to issues elsewhere on the railway. Network Rail workers continue to work behind the scenes to resolve the issues.