Want to see how a level crossing works? Come along to Colthrop signal box on Wednesday 10 October for an exciting glimpse into life on the railway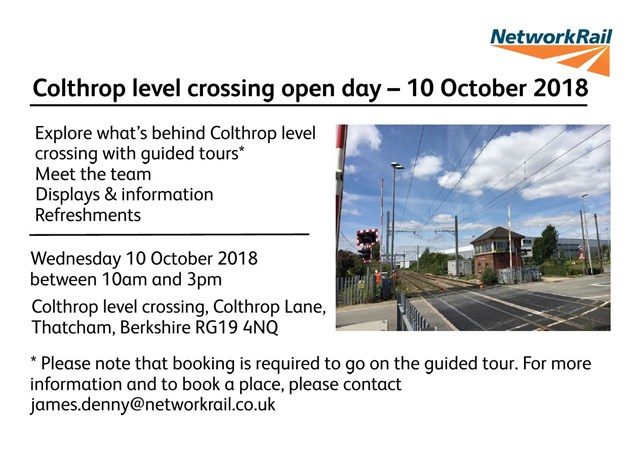 Colthrop Level Crossing & Invitation. (Network Rail Images)
Members of the public are invited to attend an open day at Colthrop level crossing near Thatcham in Berkshire on Wednesday 10 October between 10am and 3pm, where they will be able to meet railway workers from across the industry, including the team who work at the crossing and signal box, as part of Rail Week.
Information and visual displays will be available, and rail staff will be on hand to answer any questions as well as take visitors on guided tours of the signal box at the crossing. Rail Week is a dedicated week of activities and open days running from Monday 8 October to Sunday 14 October, aiming to inspire young people and encourage them to consider careers in the railway industry.
James Denny, area health and safety representative for Network Rail explains:
"This is a really exciting chance for users of the level crossings in the area to see behind the scenes, and perhaps even try out lowering the crossing barriers themselves. The crossing box at Colthrop also controls the level crossings at Midgham and Thatcham, so users of these crossings are encouraged to visit. Members of the public are most welcome to attend, and I really hope that many local residents and business owners drop in to see us."
Eddie Langford, crossing keeper and local health and safety representative for Network Rail said:
"I know how frustrating it can be for drivers when the barriers are down for a long time, and I am really looking forward to demonstrating how and why things happen the way they do."
Great Western Railway tickets will be valid on the Jet Black No 1 bus, which stops a short distance from Midgham, Thatcham and Colthrop level crossings.
Those wishing to book on to a guided tour should email James Denny on james.denny@networkrail.co.uk