Network Rail: Network news and Updates….(Network Rail)
Residents and passengers thanked as bridge renewal in Haverfordwest is completed.
The A4076 at Milford Road railway bridge in Haverfordwest has re-opened and train services between Whitland and Milford Haven have resumed as normal, following the successful replacement of Milford Road railway bridge this weekend.
Over the weekend, Network Rail teams worked around the clock to demolish and remove the existing railway bridge deck – which carries the South Wales Main Line. Engineers then installed a new, more resilient steel structure which includes a concrete collision beam to provide extra resilience, as part of Network Rail's Railway Upgrade Plan to improve the reliability of the railway in West Wales.
Rhys Howells, scheme project manager for Network Rail Wales and Borders, said: "We would like to thank the local community and rail passengers for bearing with us whilst we replaced Milford Road railway bridge.
"The previous bridge deck was nearing the end of its serviceable life and has now been replaced with a more resilient structure which will help to keep the railway in West Wales running reliably."
These essential works form part of a £4.25m upgrade project to replace two bridges in Merlins Bridge, which also included the successful replacement of Pembroke Road railway bridge in January. 
Finishing works, which include masonary repairs, track tamping and construction of retaining walls, continue at both Pembroke Road and Milford Road railway bridges.
To ensure all these works can be completed safely and effectively single lane traffic management will be in operation on Pembroke Road at the bridge and the A4076, at Milford Road bridge, intermittently overnight until the end of March 2019.
For more information visit www.networkrail.co.uk/Merlins-Bridge.
Project to improve accessibility at West Yorkshire station gets underway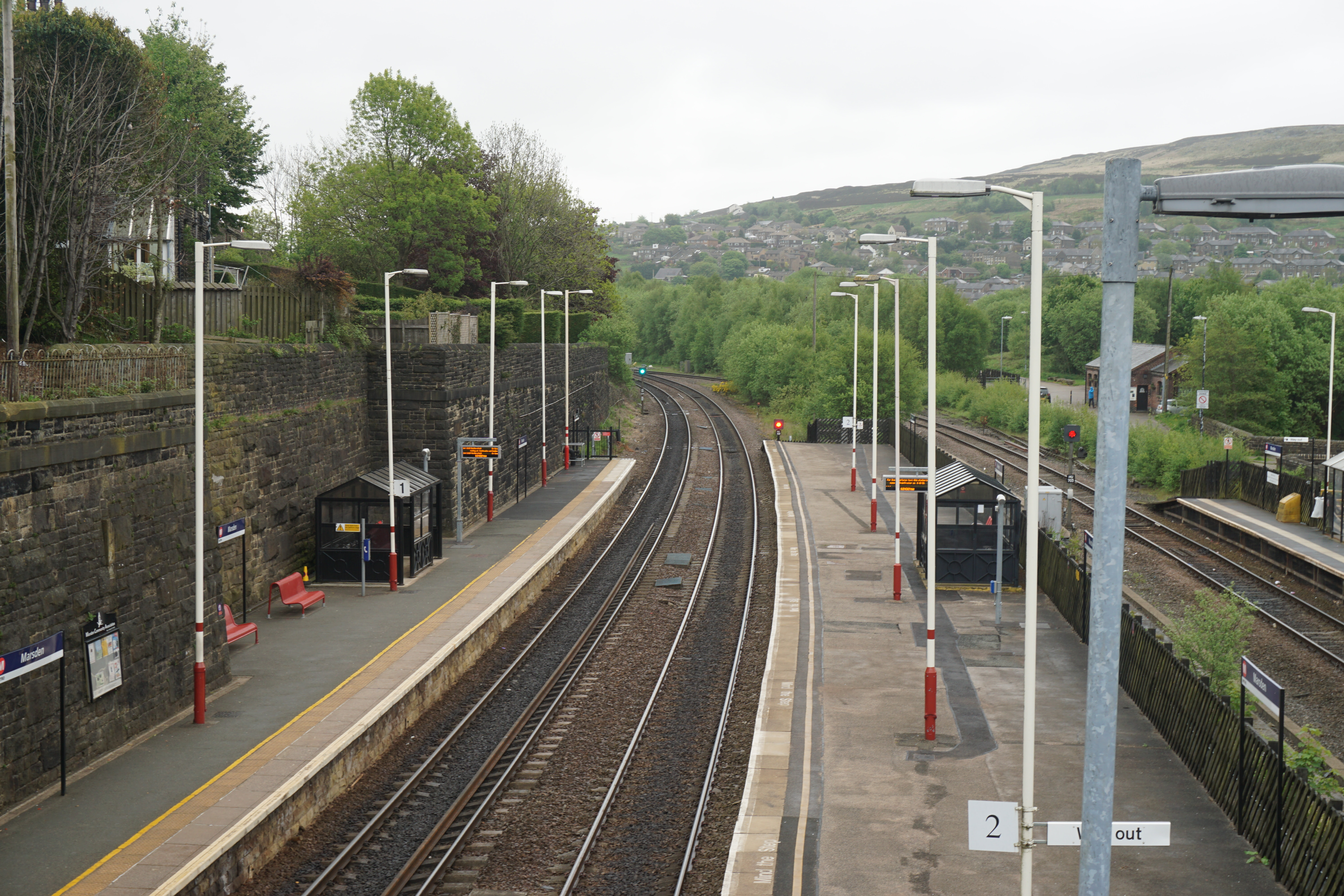 Marsden Platform.(Network Rail Image)
Passengers using Marsden station will no longer have to face a large drop between the train and the platform as work to improve accessibility at the station begins.
Thanks to new funding, part of a £15million benefit package for passengers in the North of England announced in late 2018, work will take place to raise the height of platform two.
The upgrade will mean platform two will be made a consistent height from one end to the other, making it easier for passengers to get on and off trains stopping at the station and remove the need for single door operation, the process where only one set of doors on the train are available for passengers to board and alight.
The discrepancy between the height of the platform and the trains using platform two was initially going to be solved by the installation of a temporary graded slope known as a Harrington Hump but the additional funding now means the whole of the platform can be raised instead.
Network Rail will begin work today (Monday, 18 February) and the work will complete by the end of March. Whilst the project is ongoing, train services will use platform three.
Rob McIntosh, Route Managing Director for Network Rail, said: "Passengers using Marsden station will soon be able to enjoy a more comfortable experience as platform two is raised, making it more accessible for many users.
"We are delighted to be able to carry out this upgrade thanks to the extra funding and this project will mean we can continue to provide a railway which meets the needs of the communities and economies we serve both now and in years to come."
Rail Minister Andrew Jones said: "Transport accessibility is vitally important, so I am pleased that passengers using Marsden station will soon find it easier to get on and off trains as part of Network Rail's £15million enhancements package.
"The Government is investing a record £48bn to modernise our railways, and we are working with Transport for the North and Richard George to drive forward improved performance across the northern network – focused on delivering more reliable, frequent and punctual services."
Chris Nutton, Major Projects Director for TransPennine Express, said: "The safety and comfort of our customers is of paramount importance and so we are pleased that work to raise the height of platform two is now underway."
A Northern spokesperson said: "This project is excellent news for customers of Marsden station. This is in addition to the ongoing work Northern is undertaking to modernise our network that includes new and updated trains, more services and better stations."
Gary Godolphin, Secretary for Slaithwaite and Marsden Action on Rail Transport, said: "We welcome the improvements to platform two as a first step towards improving accessibility to all platforms at Marsden station. Slaithwaite and Marsden Action on Rail Transport hope that the forthcoming Transpennine Route Upgrade will provide full disabled access to all platforms enabling everyone to use the station safely".
The customer benefit package, which was announced by the Rail Minister, Andrew Jones MP last year, is being delivered by Network Rail, Northern and TransPennine Express at stations across the north of England.
Preston to Blackpool railway reopens on Sundays after vital improvement work.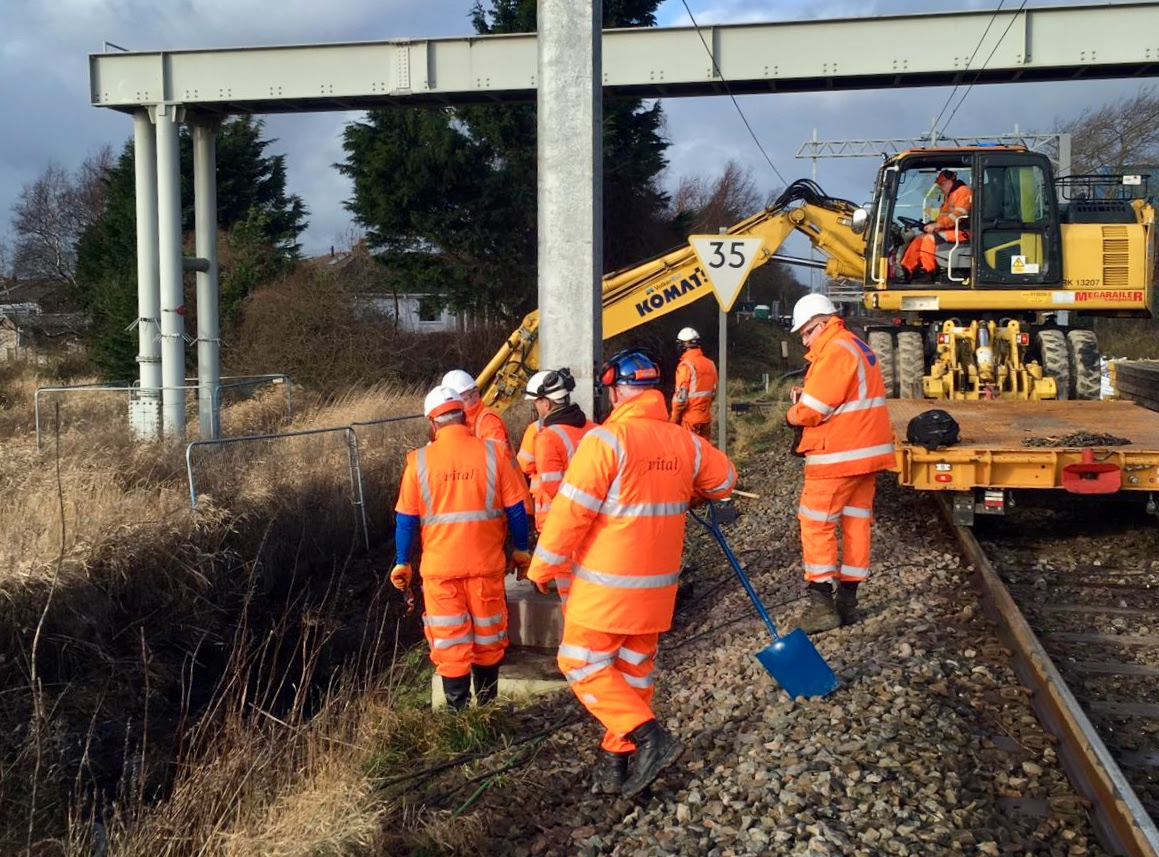 Blackpool drainage renewal Sunday 13 January drainage headwall.(Network Rail Image)
The railway between Preston and Blackpool will be fully open to trains from this weekend following seven weeks of work to improve drainage.
As part of the Great North Rail Project, Network Rail has been working along the 17-mile route in Kirkham and Poulton-le-Fylde to install 200 metres of railway drainage, 100m of new track, complete finishing touches at the recently upgraded Kirkham & Wesham station, as well as fitting new electrical switches on the new overhead power lines.
The upgrades follow last year's project to electrify the railway and will make the overhead line equipment easier to maintain, providing a more reliable railway for passengers in Lancashire.
Work to improve the Blackpool North line's drainage system will continue during overnight shifts until the end of April.
Lawrence Cheung, sponsor for Network Rail, said: "This morning we reopened Blackpool's railway, as planned, following seven Sunday closures to help us complete the Preston to Blackpool upgrade – a key part of the Great North Rail Project.
"Our engineers are working hard to carry out the finishing touches to our route upgrade, which has allowed greener and more spacious electric trains to run between Preston and Blackpool.
"We are grateful to passengers and residents for their continued patience."
Paul Maynard, MP for Blackpool North and Cleveleys, said: "I understand the frustration of passengers while this work was being carried out. I hope now we will see the full benefit of last year's upgrade work being delivered. Combined with the start of electric services on the route through Bolton, providing additional capacity, this is welcome news for passengers."
Investment in the Fylde Coast's railway continues as work to rebuild Highbury Road bridge in Lytham St Annes progresses.
To complete the next phase of the bridge renewal project, the railway between Kirkham & Wesham and Blackpool South will be closed for two weekends in March. On 9-10 and 16-17 March, replacement buses will operate between Preston and Blackpool South.
The railway between Preston and Blackpool North will remain open at all times.
Passengers should check before they travel at www.nationalrail.co.uk.
For more information about the Preston to Blackpool upgrade, visit www.networkrail.co.uk/blackpool.