"The best trip ever" – Red Barn Primary School 'Try the Train' with South Western Railway.(SWR)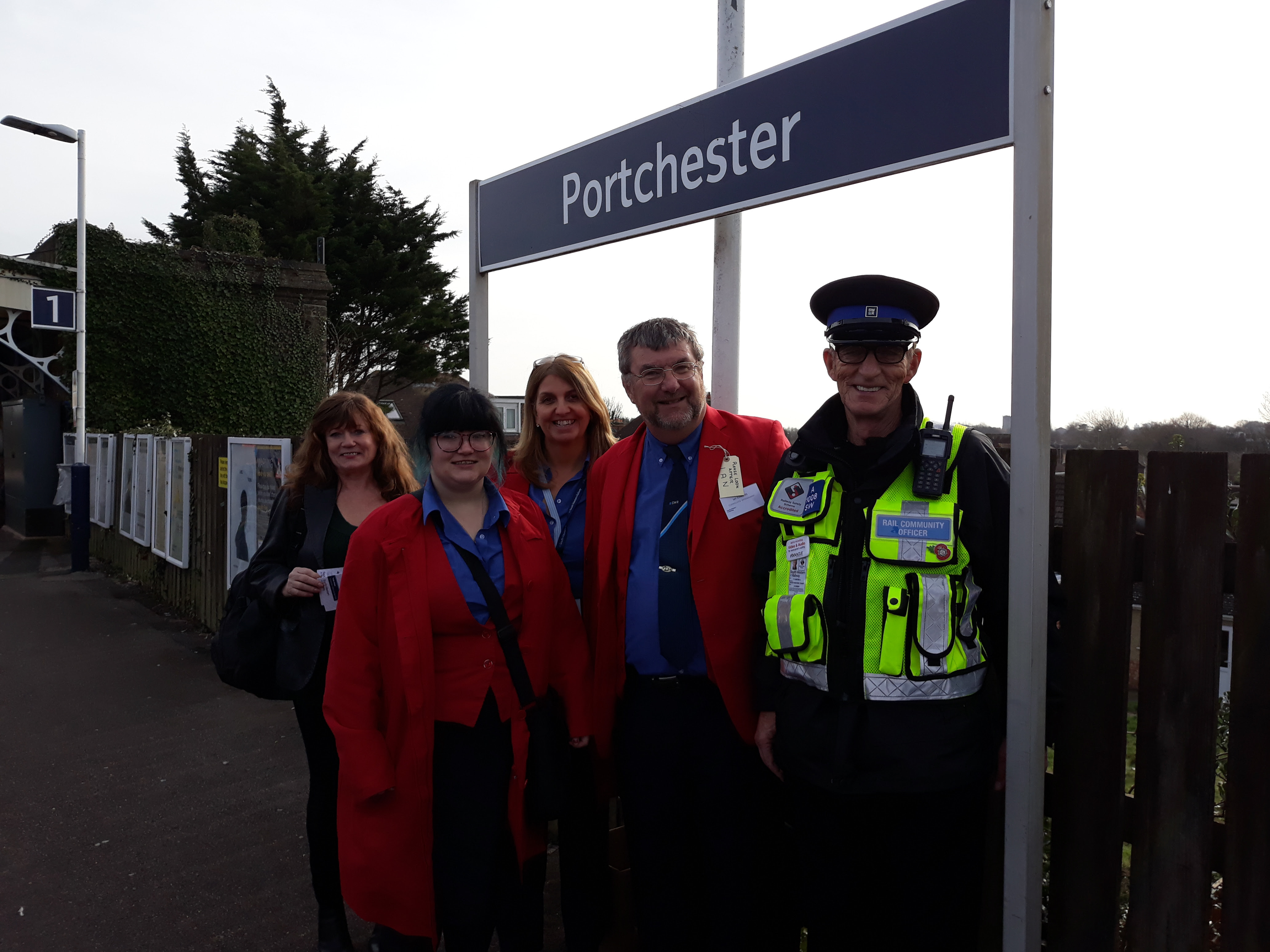 Red Barn Primary School 'Try the Train' with SWR's Community Ambassadors
30 children from 'Year R' learnt how to use station facilities and be safe on the railway
'Year R' said they had "the best trip ever!"

Children from Red Barn Primary School became the latest group to 'Try the Train' with South Western Railway's (SWR) Community Ambassadors: Ian Edwards, Ann McDermott, Jessykar Donald and Tarnia Rayment, and Rail Community Officer, Chris Campbell.
Community Ambassador, Ian Edwards, greeted the 30 children from 'Year R', before boarding the train at Portchester for Portsmouth Harbour station. Ian wore a luggage tag that said, 'Please look after Ian' and tasked 'Year R' with ensuring he was kept safe in homage to Paddington Bear.
'Year R' were surprised with a special ramp to disembark the train upon their arrival at Portsmouth Harbour station. Following this, the Community Ambassadors taught the children how to use the station's 'Help Point' button, ticket machines as well as how to ask for the correct ticket from ticket office staff.
Chris Campbell helped 'Year R' understand the importance of keeping safe on the railway. They learnt to stand behind the yellow line on a station's platform and where to go, if like Paddington Bear, they become lost!
George Milburn, Teacher at Red Barn Primary School, said:
"The Community Ambassadors were enthusiastic and engaging, but also insightful and informative. They were genuinely interested in the children, giving lots of time for questions.

"As we returned to school, I heard the children describing it as "the best trip ever", which is testament to the hard work, dedication, commitment and passion of the Community Ambassadors and SWR staff."
Ian Edwards, Community Ambassador, said:
"'Try the Train' days are always a joy, particularly for the younger children who may have never been on a train before. 'Year R' from Red Barn Primary School were bright, attentive, and full of great questions for me and the rest of the Community Ambassador team.

"These days are a great opportunity for children to learn how to be safe on the railway and to interact with the station staff and facilities. More importantly, know where to go if they become lost like Paddington Bear!"
'Try the Train' is traditionally aimed at children, the elderly, groups seeking employment or those with disabilities or accessibility needs; learning how to safely use the rail network.
SWR has over 30 Community Ambassadors – staff who have all volunteered to take on this role – have already delivered 15 'Try the Train' trips since their creation in July 2018. Since then, the aim is to deliver at least 15 trips each year. These activities help those who feel excluded from public transport understand that support is available to make journeys as comfortable as possible.
To find out more, please email  Andrew.harrowell@swrailway.com Community Rail Manager and Community Ambassador.