'Visual impairment should not be a barrier to independent travel' – South Western Railway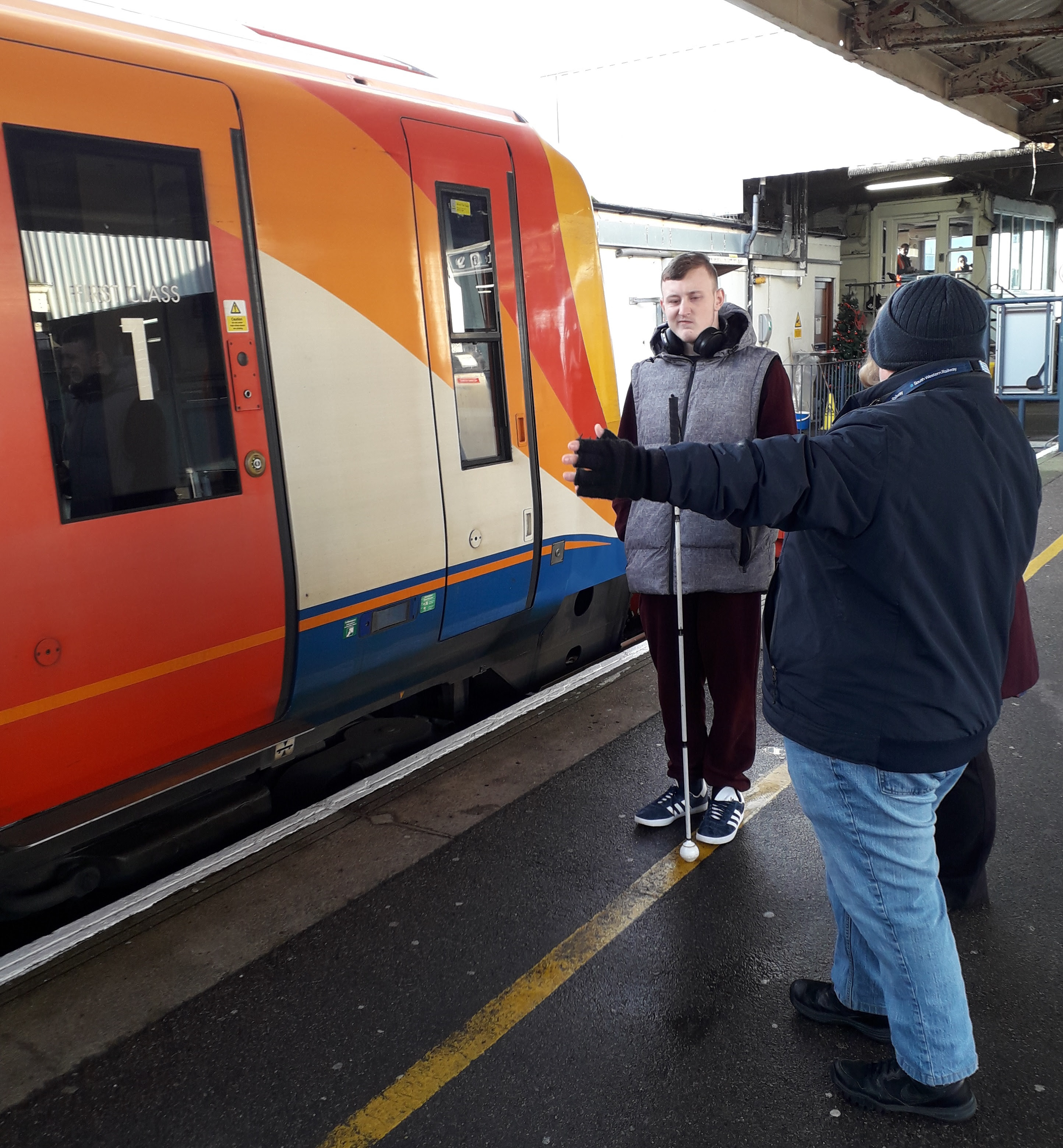 Jimmy, registered blind, tried the train to become confident in travelling on the railway independently
Community Ambassadors, Brian Reece and Andy Harrowell, helped Jimmy with his awareness of seat configuration, location of toilets and available services
Andy Harrowell: "Community Ambassadors give people the chance to develop their confidence with our support"
A visual impairment should not be a barrier to travel, so the latest 'Try the Train' trip was an opportunity for a young, registered blind man to become a confident, independent traveller on the railway.
Jimmy, who suffers from glaucoma, is a college student from the Portsmouth area and a long-cane user. In the past, he travelled with the support and training from Gemma Bastable, Habitation Specialist at Portsmouth City Council's Inclusion Service. However, this year, Jimmy hopes to attend his regular eye appointments at London's Moorfields Eye Hospital without assistance, and in the near future, to travel independently by train to attend university.
South Western Railway's (SWR) Community Ambassadors – Brian Reece and Andy Harrowell – spent time with Jimmy and Gemma at Portsmouth Harbour discussing how they could help make future journeys easy and as safe as possible. Brian and Andy provided an overview of the train's layout, including seat configuration, location of toilets as well as the services that could aid Jimmy as he travels: on-board quiet zones and tactile buttons, as well as demonstrating the different station facilities, including help points.
Andy Harrowell, SWR's Community Rail Manager, said:
"This is exactly what our Community Ambassador programme was set up for: giving people the chance to develop their confidence with our support. Visual impairment should not be a barrier to becoming an independent traveller on the railway.

"Community Ambassadors are committed to helping remove the barriers that prevent people experiencing the railway for work, leisure or travel."
Gemma Bastable, Habilitation Specialist at Portsmouth City Council, said:
"This is an invaluable opportunity for individuals with a disability to develop confidence and independence using trains by understanding how they operate. Both Andy and Brian were professional, friendly and knowledgeable.

"Thank you so much to them for their time and effort. It has made a real difference."
Jimmy commented that the 'try the train' session was "really helpful" as it enabled him to explore an SWR train when it was not in service: free of the pressure of a moving train (e.g. no passengers to navigate around). Jimmy added that he enjoyed the day and had a much better understanding of train travel, travel assistance and the layout of trains by the end of the session.
SWR has over 30 Community Ambassadors – staff who have all volunteered to take on this role – and they have already delivered 15 'Try the Train' trips since their creation in July 2018. Since then, the aim is to deliver at least 15 trips each year. These activities help those who feel excluded from public transport understand that support is available to make journeys as comfortable as possible.
To find out more, please email Andrew Harrowell, Community Rail Manager and Community Ambassador.