Bringing a touch of the countryside to London Waterloo.(SWR)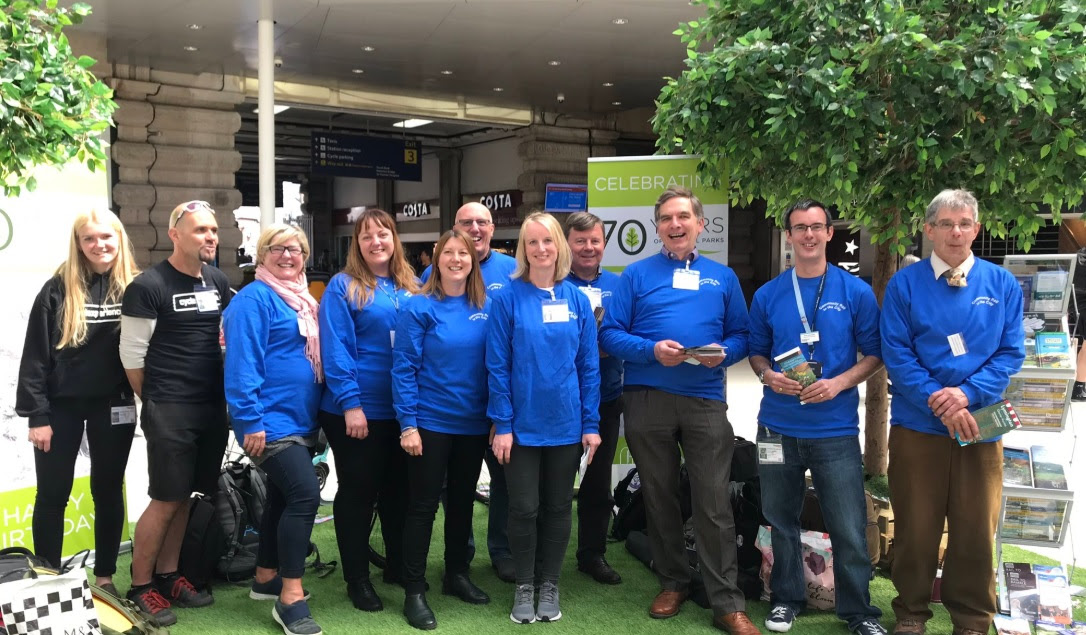 South Western Railway (SWR) and its community partners hosted an event at Waterloo station (Wednesday 15 May) to encourage people to use Britain's most scenic rail routes and promote sustainable tourism.
South Western Railway was joined by Wightlink (Isle of Wight ferries), Hovertravel, Surrey Hills Area of Outstanding Natural Beauty, Cyclexperience and numerous Community Rail Partnerships for the event.
They caught the attention of busy commuters and day-trippers with a countryside scene as their backdrop, helping to celebrate the 70th anniversary of National Parks and promote the many wonderful destinations across the rail network.
Andrew Harrowell, Community Rail Manager for South western railway, said:
"SWR provides a range of support, including funding, to Community Rail Partnerships (CRPs) across our network, working in partnership with others to promote sustainable transport, support social development and involve diverse community groups.

"Community Rail in the City was a fantastic opportunity to promote some wonderful destinations and I'd like to thank all the organisations, and volunteers, who got involved to bring the countryside to the city for the day. We hope that people will now be encouraged to head out on a train and find the real thing. Anyone interested in finding out more about the work of our CRPs can do so at www.leafthecity.co.uk."
Bobby Lock, Community Rail Manager for Isle of Wight and Lymington-Brockenhurst, said:
"It was delightful to have so many CRPs working together to raise awareness of all the great destinations accessible by train. We created quite a stir at Waterloo and had lots of people stop by our stall to find out more. Thanks to everyone who got involved with a such an amazing event."
SWR works with the following CRPs:
Blackmore Vale (Tisbury to Crewkerne)
Devon and Cornwall (Axminster to Exeter)
East Hants (Liphook to Rowland's Castle)
Hounslow line (Barnes to Feltham)
Island line (Ryde Pier Head to Shanklin)
Lymington to Brockenhurst
North Downs (Gatwick to Reading)
Purbeck (Moreton to Holton Heath, including Swanage Railway)
Surrey Hills to South Downs (Haslemere to Milford)
Three Rivers (Salisbury to Bursledon / Winchester, via Romsey and Chandler's Ford)