Network Rail announces £800m rail haulage and seasonal services contracts.(Network Rail)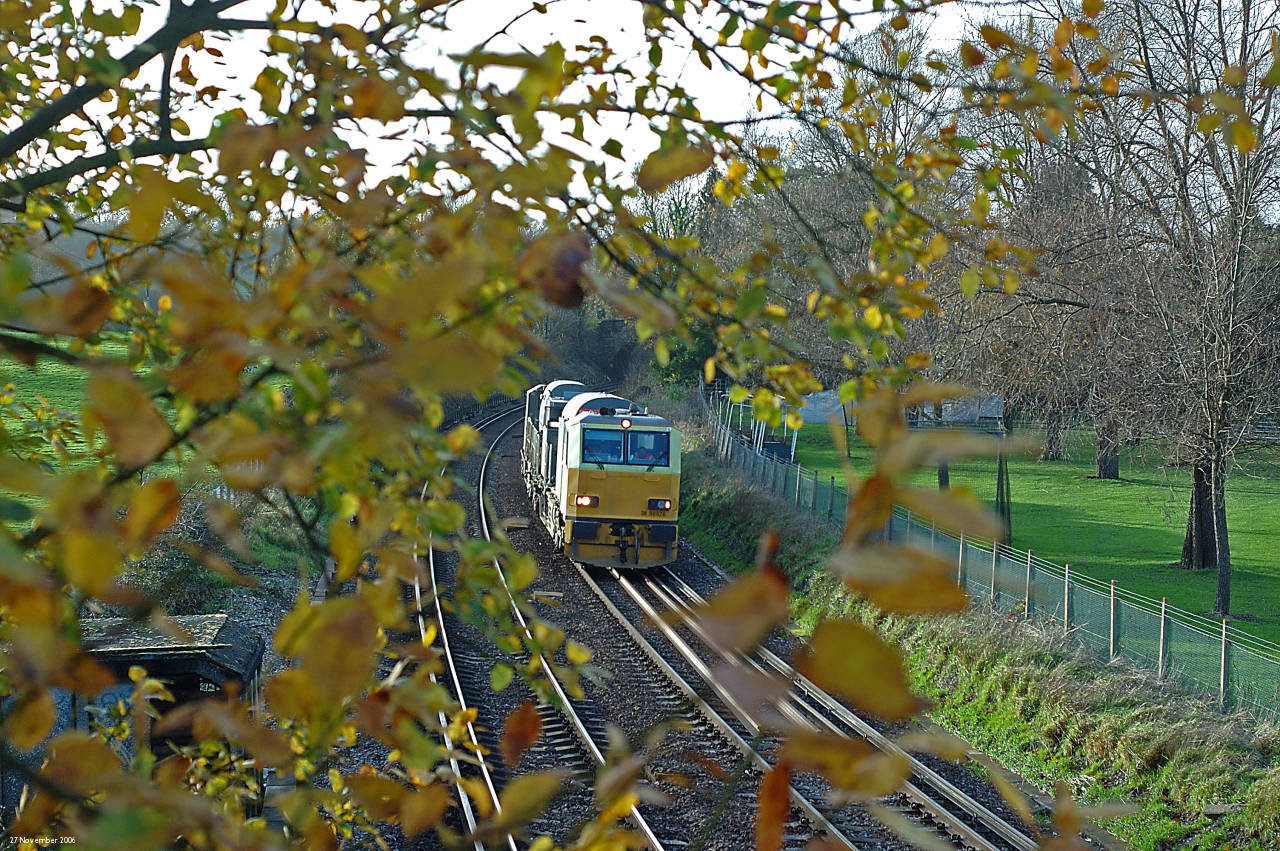 Rail haulage and seasonal service contracts worth a total value of £800m
 Awarded to Freightliner, GB Railfreight, Direct Rail Services, DB Cargo UK, Colas Rail UK and Balfour Beatty as detailed
Network Rail has awarded contracts worth £800m for the haulage and operations of its engineering trains and seasonal treatment services in Control Period 6 (CP6, 2019-2024).
The rail haulage contracts, which include network, bulk ballast and possession engineering trains, have been awarded to Freightliner, GB Railfreight, Direct Rail Services, DB Cargo UK and Colas Rail UK.
DB Cargo UK, GB Railfreight and Freightliner will also operate Network Rail's supply chain operations local distribution centres in CP6, with a focus on improving facilities and safety for better working practices and performance.
As part of the seasonal services contracts, Balfour Beatty and DB Cargo UK will be providing the weedspray and autumn/winter multipurpose (MPV) services in CP6. Rail head treatment train (RHTT) autumn services will be operated by DB Cargo UK, Direct Rail Services, Colas Rail UK, GB Railfreight and Freightliner. GB Railfreight will be operating the snow and ice treatment trains (SITT) while Direct Rail Services will operate the winter development train.
The new contracts will help to drive improvements in performance and delivery for more reliable services for passengers and freight.
Rob Morton, director of supply chain operations, Network Rail, said:
"These contracts demonstrate the commercially creative approach Network Rail's supply chain now adopts. We have applied a more collaborative and forward-thinking style to our sourcing than previously, which aligns not only our goals, but those of our supply partners.

"The new contracts provide us with sufficient flexibility to direct our spend to those suppliers who deliver the best service. We have also ensured the deals have appropriate mutual benefit to maximise their longevity and chance of delivering successfully."
Haulage and seasonal services contracts:
Lot 1 Haulage for network, bulk ballast and possession trains – Freightliner, GB Railfreight, Direct Rail Services, DB Cargo UK and Colas Rail UK
Lot 2 Operations at Network Rail's local distribution centres – DB Cargo UK (Millerhill, Carlisle, Doncaster, Toton, Hinksey, Westbury and Hoo), GB Railfreight (Bescot, Whitemoor and Eastleigh) and Freightliner (Crewe)
Lot 3 Multi-purpose vehicle (MPV) weedspray treatment – Balfour Beatty and DB Cargo UK
Lot 4 MPV autumn and winter treatment – Balfour Beatty and DB Cargo UK
Lot 5 Rail head treatment train (RHTT) for autumn treatment – DB Cargo UK, Direct Rail Services, Colas Rail UK, GB Railfreight and Freightliner
Lot 6 Snow and ice treatment train (SITT) for winter treatment – GB Railfreight
Lot 7 Winter development train for winter treatment – Direct Rail Services
Lot 8 Snow ploughs, route proving and ice breaking for winter treatment – Direct Rail Services
Michael Leadbetter, planning and resourcing director, Freightliner, said:
"Freightliner has a long history of working with Network Rail to deliver maintenance and renewal of the working railway. We're also really proud to have been involved in the delivery of many major projects across the country, improving the national infrastructure and helping to provide a rail network fit for the future. We're delighted to be able to renew and build on this collaboration with Network Rail for another five years."
Hans-Georg Werner, CEO, DB Cargo UK, said:
"DB Cargo UK is proud to continue its longstanding relationship with Network Rail. These contract awards are testament to the hard work of our employees who allow us to deliver reliable and sustainable services every day. We look forward to collaborating with Network Rail for a further five years as we ensure the railways keep moving in Britain."
Mark Wyborn, general manager for Network Rail / Infrastructure, GB Railfreight, said:
"GB Railfreight is delighted to be a trusted partner and has been working closely with Network Rail for many years. We remain incredibly proud of the role our services play in keeping Britain's trains moving safely and securely and the part we play within the overall supply chain.

"The local delivery centres (LDCs), haulage and seasonal services contracts we have been awarded demonstrate just how valued GB Railfreight is to the successful delivery of the rail network and best placed to offer high quality services across the freight sector."
Chris Connelly, chief operating officer, Direct Rail Services, said:
"Direct Rail Services is delighted to once again be playing a vital part in keeping Britain's railways open for business in support of both freight and passenger operations. Over the last five years we are proud to have developed a strong relationship with Network Rail as a valued customer and we look forward to continuing this over the next five-year period."
Jean-Pierre Bertrand, CEO, Colas Rail UK, said:
"We are committed to deliver a best in class service to Network Rail supply chain operations. By delivering both track renewal and maintenance works alongside our freight services we can ensure efficient and timely delivery for the benefit of the end users, supporting Network Rail in enhancing the infrastructure for the benefit of the passengers."
Mick Rayner, managing director of Balfour Beatty's rail business, said:
"Our engineering excellence and continuous drive to improve Network Rail's asset performance was instrumental in securing this new contract. We look forward to continuing our work with Network Rail to operate and maintain the next generation of MPV fleet, while tackling everyday weather-related challenges to provide a resilient railway for the public."