New direct train service from Farnham to Guildford.(SWR)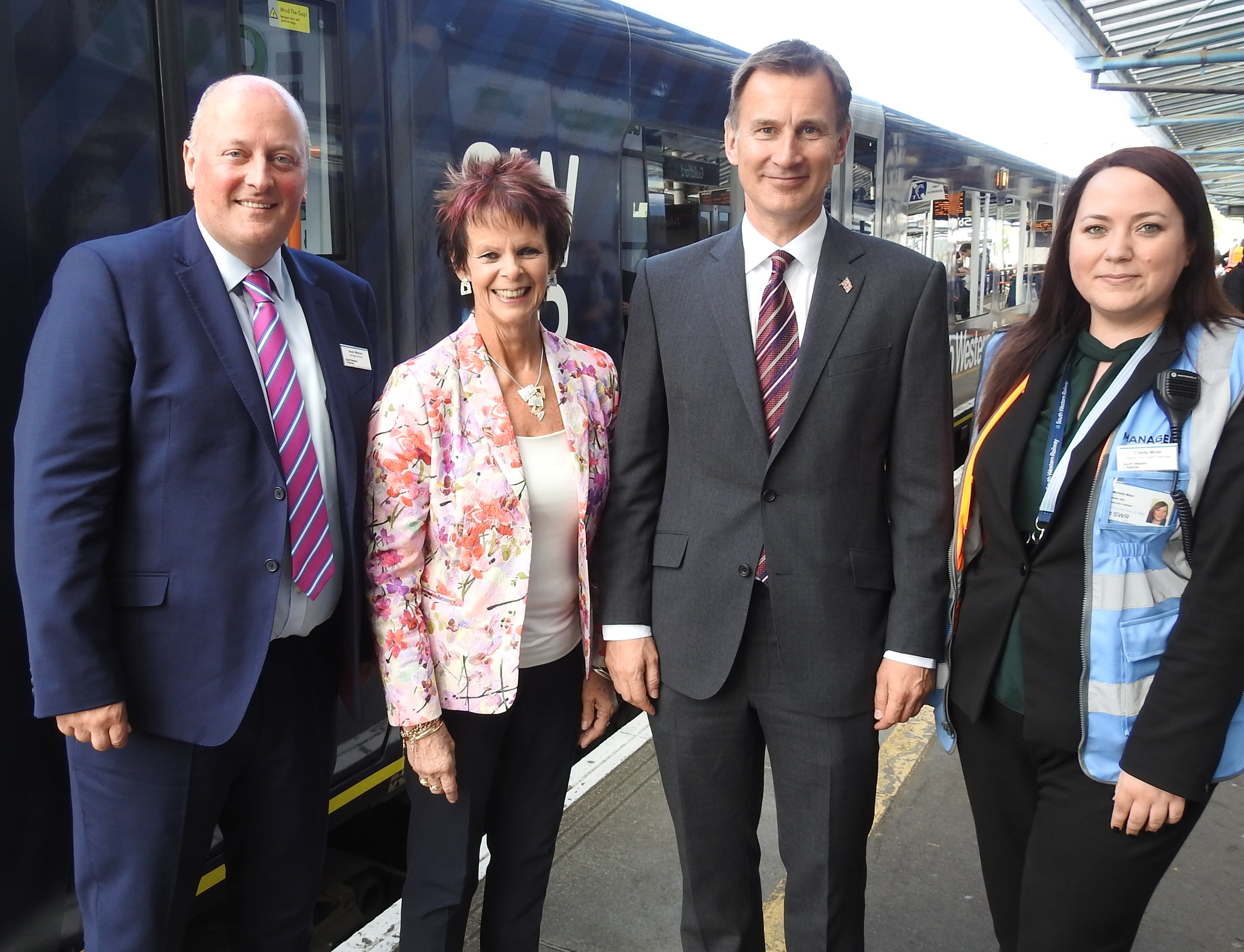 New direct train service between Farnham and Guildford
Introduced as part of new SWR timetable earlier this week
The half-hourly service is in response to customer and stakeholder feedback
Jeremy Hunt MP and Anne Milton MP were on hand to celebrate the new service
Timetable introduction has meant extra seats and better connectivity for many customers across the SWR network
South Western Railway celebrated the arrival of the new direct Farnham to Guildford service earlier today (Friday 23 May).
Jeremy Hunt MP joined SWR's Managing Director Andy Mellors at Farnham station along with passengers to board the new half-hourly service.
They departed the station at 09.34, arriving in to platform 6 at Guildford shortly before 10.00. At Guildford, they were joined by Anne Milton MP to mark the occasion.
Andy Mellors said:
"The new direct, half-hourly service is a vast improvement on the old timetable (where customers travelling between Farnham and Guildford had to change at Aldershot) that reduces journey times significantly.

"It was great to mark the occasion as I know how much our customers have been looking forward to its arrival. By the end of the first week of the new timetable introduction, I am really pleased to report that we have run over 300 additional train services, providing extra seats across the network."
Jeremy Hunt MP said:
"It is great news that there is a new direct link between Farnham and Guildford. I have been pressing hard for this for some time and frankly if we want to make Farnham attractive for young people you need to be able to travel to our nearest big town easily. Time will tell regarding extra pressure on the station car park in Farnham but in the end this will mean fewer not more people in cars."
Full details of all timetable changes for May 2019 are available online at southwesternrailway.com or nationalrail.co.uk, or you can download the full list.