"On Shed" – May 2019 Edition
"Preserving the steam locomotive legacy..and more..on film"
FRONT PAGE
Welcome..and News
Editor's Selection:Extract from Northern Weekly Salvo 265(Prof Paul Salveson)
100 Trains….the journey so far….
Steam Tube Photographic File
Steam Tube Video Vault
Steam Tube Blogs
Tornado…The Story so far…
New & ReBuild News.
B & O Railroad Museum TV
Mainline Steam Schedule
On This Day in History.
Radstock to Frome Railway Project
Christian Wolmar… Railway Historian.
Around the UK's Heritage Railways A – Z "R"
WATTRAIN & APHTRO & NERHT News
30742 Charters
Back Page.
Welcome..and news….
Welcome to this May edition of "On Shed"- the monthly magazine of "Steam Tube – The Home Of Steam On The Net!"
The biggest news story concerns the biggest locomotive rebuild.."Big Boy" has moved under its own steam after an extensive restoration project by Union Pacific. Congratulations to all concerned.
If you are keen on nostalgia, then the book referred to by Paul Salveson in his Northern Weekly Salvo will be right up your street..or track!!
Progress on all the key rebuilds etc can be found by clicking on the relevant image.
If you would like something special to be included.. or you are part of a project that could do with more support, please feel free to get in touch (peterlewis2@gmail.com)
Meantime, enjoy!
Editors' Selection
Editor's Selection: Extract from Northern Weekly Salvo 265(Prof Paul Salveson.
Publications of Note: After 1968
My friend and regular Salvo reader Bill Jamieson has just self-published a substantial book of his excellent black and white photos of post-1968 steam. It focuses primarily on the Vale of Rheidol, the last outpost of BR steam until its sale. However he has included some great photos of steam in eastern Germany, Portugal and France. He really should do a further book of his photos in the former GDR, they are excellent. He writes…
"During the summer of 2018 a number of events were held to mark the 50th anniversary of the end of standard gauge steam operation on British Railways. There was naturally extensive coverage of the anniversary in those railway periodicals aimed at the nostalgia market, and a number of books were published or announced, including notable offerings from Colin Gifford, Stephen Leyland and the Master Neverers Association, the last of these a four-volume magnum opus. Continued steam operation of the 1' 11.5" Vale of Rheidol line beyond August 1968 did warrant a mention in the magazine coverage, but it is probably not widely appreciated that another significant anniversary fell in 2018, both for the line and BR, which actually ran its very last timetabled steam-worked train using one of its own locomotives some thirty years earlier on 4 November 1988, at the close of that year's Vale of Rheidol operating season. Thesale of the line to the Brecon Mountain Railway was concluded a few months later and normal service wasresumed in May 1989, but the line was now firmly in the heritage sector, rather than a part of the national network.
This album of photographs has been produced to mark a 30th anniversary which otherwise seems to have passed by unremarked, and to redress the photographic neglect (based on a perceived dearth of published photos from the 1970s and 1980s) of a minor but interesting chapter in British railway history. With less than 12 miles of line to cover, this is naturally a somewhat slimmer volume than any of those brought out to mark the end of standard gauge steam, but hopefully the quality of reproduction and the generous size at which the photographs are used will compensate to some degree for the lower page count".
Bill is selling his book for £27.50 but is offering Salvo readers a discounted rate of £25. Please send cheques made to 'Bill Jamieson' to Sparrow Castle, 91 Gala Road, Stow, Galashiels TD1 2BQ.
100 Trains….the journey so far….
The Wheelchair Tour of Scotland 2019.

I would prefer to make this journey in one go. However, the progression of my condition now means that I'm limited to about one week away at a time, at most.
Therefore, the tour will be made in two stages (possibly three depending on the future progression of my ataxia).
With each stage being centred around my participation in a specific Kiltwalk. First Glasgow. Followed by Dundee. And possibly Edinburgh too.
The tour will also be train-based. Highlighting the current partnership between MND Scotland and the Scotrail Alliance.
The tour will also showcase the natural beauty, and attractions, of Scotland. Attractions that are easily accessible by rail. Scotland really is very lucky to have some of the most beautiful railway lines, not just in Europe but, on the planet.
Stage 1. Glasgow Kiltwalk, West Highland Railway, Isle of Skye, Inverness, Edinburgh.
Stage 2. Stirling, Dundee Kiltwalk, Aberdeen, Inverness, Thurso/Wick.
Stage 3 (possible). Falkirk, Borders, Berwick-upon-Tweed, Edinburgh Kiltwalk.
---
A Wee Bit of Personal History:
I was diagnosed with spinocerebellar ataxia in 2015.
Although I was told that I would eventually need to use a wheelchair (I now do), I could still walk quite well at that stage – although with the, increasing, need of a walking stick.
So I used my final walking days to raise funds and awareness of this rare condition (I raised £1,100 during previous "walking" events – the longest of which was a 500 mile walk in Spain).
Now though, the progression of my ataxia means that my wings have been clipped somewhat. So all future fundraising can only be in Scotland from now on (and even closer to home in Ayrshire in the future perhaps?).
I have chosen MND Scotland as the beneficiary this time. Ataxia is so rare that there is no Scotland-specific charity for the condition, but it has similarities to MND: a neurological condition affecting motor abilities – and similarly incurable at present.
And it is this "at present" which is so important.
If a cure can be found, it will be found. But only as a result of medical research. Which requires funding.
So, to do "my bit"….
https://glasgowkiltwalk2019.everydayhero.com/uk/ataxiascot
"Steam Tube- The Home of Steam on the Net!"
Steam Tube is now found on Facebook….and whoever wishes may post their latest videos and photographs for all to see and share. The Facebook page has now had over 1,000 likes! And Rail Tube, a 24/7 rolling railway news blog has 1,500 plus likes! So, please feel free to add to the pages, and lets make Steam Tube live up to its ambitious tag line (which was what was added after the first video and photograph was uploaded!!)-"Steam Tube – The Home of Steam On The Net!
A selection of uploaded videos will be shown in each month's edition of"On Shed."
Steam Tube Blogs.
Over the past year we have been able to share some excellent blogs, notably "Steam Age Daydreams"..and there have been other contributors Chris Eden Green, Ronik24, Chris Spencer and Dick Bodily to name but a few ..
Please feel free to alert us to any other steam related blogs that will help build a significant historical resource for others to enjoy.
Tornado…The Story so far…
2019

Saturday 11th May 2019 – 'The Mad Hatter' – Darlington, York and Wakefield to Chester – bookings through UK Railtours
Saturday 18th May to Sunday 2nd June – Wensleydale Railway – contact: admin@wensleydalerailway.com or call 01677 425805
Saturday 15th June – 'The Yorkshire Pullman' –  London King's Cross to York and Scarborough – bookings through UK Railtours
Sunday 23rd June – 'The Summer Cornishman' – Bristol to Par and return – Pathfinder Tours
Saturday 6th July –  'The Dart & Torbay Express' – Birmingham to Kingswear and return – Pathfinder Tours
Sunday 14th July – 'The Pembroke Coast Express' – Bristol to Tenby and return – Pathfinder Tours
Saturday 20th July – 'The North Briton' – London and East Coast stations to Carlisle via the Settle and Carlisle Railway and return – bookings through UK Railtours
Thursday 1st August – 'The Aberdonian' – Edinburgh to Aberdeen and return – bookings through UK Railtours
Sunday 4th August – Linlithgow to Tweedbank and return – Scottish Railway Preservation Society
Thursday 8th August – 'The Aberdonian' – Edinburgh to Aberdeen and return – bookings through UK Railtours
Sunday 11th August – Linlithgow to Tweedbank and return – Scottish Railway Preservation Society
Saturday 17th August – 'The North Briton' – London and East Coast stations to Carlisle via the Settle and Carlisle Railway and return – POSTPONED UNTIL 28th SEPTEMBER
Saturday 31st August – 'The Aberdonian' – Edinburgh to Aberdeen and return – bookings through UK Railtours

The Trust respectfully requests that anyone wanting to see Tornado follows the rules of the railway and only goes where permitted.
60163 Tornado passing through Stratford Parkway at 1650 on return leg to Manchester Piccadilly with "The Bard of Avon" Rail tour,Saturday 23rd March 2019.
New & ReBuild News.
(Click on Image!)
B & O Railroad Museum TV
Each month the B&O TV Network, starring actor Michael Gross, spotlights a moment in B&O Railroad history. Take a journey into the past and view one or all of these episodes posted on YouTube.
Mainline Steam Schedule
This listing is offered in good faith, so there is no guarantee offered or implied.Please confirm running with the relevant tour operator.
And adhere, please, to Network Rail's photographic guidelines…..HERE
The tour schedule for May 2019..…and beyond…can be found  at Railway Herald

On This Day in History.
May
02/05/1859
The Royal Albert Bridge, two 450 feet arched spans over the River Tamar, linking Devon and Cornwall, is opened
03/05/1903
The Mersey Railway, operating between Birkenhead and Liverpool by tunnel beneath the River Mersey, England, converts from steam to electric traction
03/05/1926
U.K. General Strike commences, continuing to affect railways until May 12
06/05/1994
The Queen and France's President Francois Mitterrand have formally opened the Channel Tunnel during two elaborate ceremonies in France and Britain.
After travelling through the tunnel, which took eight years and billions of pounds to build, the Queen said it was one of the world's great technological achievements.
The tunnel is the first land link between Britain and Europe since the last Ice Age about 8,000 years ago.
The first leg of the Queen's journey took her from London's Waterloo station through the tunnel by high-speed Eurostar passenger train.
She arrived at Calais at the same time as the President Mitterrand's train which had travelled from Paris' Gard du Nord via Lille.
Nose to nose encounter
The two locomotives met nose to nose – a computer that prevents two trains travelling on the same track was switched off for the occasion.
09/05/1904
City Of Truro heads the Ocean Mail special down Wellington bank at a reputed 102.3mph
12/05/1911
Electric trains begin work between London Victoria station and Crystal Palace
15/05/1929
Golden Arrow 1st class Pullman service introduced Victoria-Dover and Calais-Paris
17/05/1906
The Simplon Tunnel between Italy and Switzerland, the world's longest tunnel until 1979, opens to rail traffic
19/05/1907
Benjamin Baker, British civil engineer, designer of the Forth Railway Bridge (b. 1840).
20/05/1892
Last Broad Gauge train runs from Paddington to the West of England.
22/05/1915
In the Quintinshill rail crash, four trains including a troop train collide, the accident and ensuing fire causing 227 fatalities and injuring 246 people at Quintinshill, Gretna Green, Scotland; the accident is blamed on negligence by the signalmen during a shift change at a busy junction
24/05/1900
Nottingham Victoria railway station opens in Nottingham, England
31/05/1879
The first electric railway opens at the Berlin Trades Exposition
Radstock to Frome Railway Project
Welcome to The Radstock to Frome Railway Trust and the Radstock to Frome Railway Project. We are a charitable organisation with the primary aim of assisting the reopening of the redundant railway line between Radstock and Great Elm (near Frome), with the aspiration at a later stage to extend the railway back to Frome junction and reconnect with the national rail network.
This is a community interest venture, and in order to succeed need your support. We are currently discussing the project with other interested parties to maximise the support and our capabilities to make a success of this project.
Radstock is a town has a fine industrial heritage and a bright future ahead. The Radstock to Frome Railway Trust is committed to assisting the opening of the railway as a valuable resource for the community. A designated section of the former railway land (inside Area 3) has been set aside for the possible reinstatement of a rail link there. Our organisation will maximise Radstock's potential as a tourist destination, situated between and near the historic cities of Bath and Wells, and play an instrumental part in reviving the local economy.
However, we are unable to do all this without your help and kind generosity. On the 2 nd October 2014 The Somer-Rail Trust was registered by the Charity Commission as a charity in England and Wales (1158749). As a group we are steadily increasing in number and would appreciate your help and support moving forward with this project, if you can assist us please don't hesitate to get in touch.
Our Facebook/Twitter group pages are an excellent way to share memories, and view photographs (old and new) of the line. The Trust's quarterly newsletter 'Along the Lines' includes all the latest developments and a background history of the railway.
Thank you for your interest in the Radstock to Frome Railway Project.
Christian Wolmar… Railway Historian.
Christian Wolmar is a regular speaker at conferences, meetings and seminars both in the UK and abroad on transport and, specifically, rail matters. He often speaks at conferences on the latest development in the rail and transport industries and gives lectures on all his rail history books
Christian gives around 30 talks per year and has spoken all around the country, as well as in Belgium, Netherlands, Germany, Denmark, France, the United States and Australia where he has twice been invited to provide his expertise. He has given two lectures at the Royal Geographic Society.
Latest Book: The Story of Crossrail
Around the UK's Heritage Railways A – Z "V" Here
30742 Charters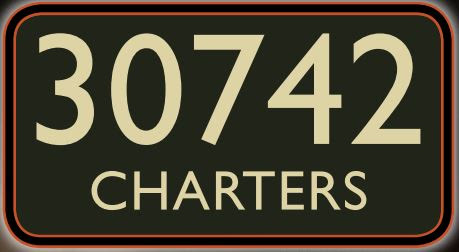 Back Page
Golden Age of Steam.(C) Robin Coombes