"On Shed" – July 2019 Edition
Preserving the steam locomotive legacy..and more..on film"
Now features at Wonderful World of Trains & Planes, Birmingham
FRONT PAGE
Welcome..and News
Editor's Selection: Isle of Man Railway.(Dick Bodily)
100 Trains….the journey so far….
Steam Tube Photographic File
Steam Tube Video Vault
Steam Tube Blogs
Tornado…The Story so far…
New & ReBuild News.
B & O Railroad Museum TV
Mainline Steam Schedule
On This Day in History.
Radstock to Frome Railway Project
Christian Wolmar… Railway Historian.
Around the UK's Heritage Railways A – Z "R"
WATTRAIN & APHTRO & NERHT News
30742 Charters
Back Page.
Welcome..and News
Editor's Selection: Isle of Man Railway.(Dick Bodily)
When I twice visited the Isle of Man back in the early 1960s I missed out on the Isle of Man Steam Railway so I've always been keen to revisit the Island but didn't get around to it until this year. Since the sixties the system has contracted considerably, the Peel and Ramsey lines having been lost, but the Port Erin line still remains in good shape and is one of the very best preserved lines anywhere with scenery to match. The IMR is state owned and trips to Port Erin on this 15 miles and a bit line are very competitively priced, £13.40 for an adult return in 2019, the Manx government being very aware of the IMR's and also the Manx Electric Railway's important role in attracting tourists' money to the island. An all island travel ticket using state owned trains, trams and buses was only £ 17 per day in 2019, you could even go up Snaefell on the Snaefell Mountain Railway using such a rover ticket. Just one point, to break your journey you need to purchase a rover ticket or buy individual ones foe each part of your trip.
Despite the loss of over half of the system, of the eighteen steam engines that once roamed the 3' gauge system only four have been scrapped. One is preserved sectioned at Manchester's Museum of Science and industry, two are to be found at Port Erin Museum, one is privately preserved on the island and around half of the remaining ten are stored at Douglas out of view to the public. Usually four are in service, we were to see all four currently in service in steam while on the island. All but one of the fourteen surviving engines are the iconic Beyer Peacock 2-4-0Ts, the odd one out being the No 15 0-6-0 'Caledonia' , built in 1885 by Dubs of Glasgow, which was being heavily used the week we were there, it being much more powerful than the Beyer Peacock tanks.
The track layout at Douglas' terminus is a pale shadow of how it was in the sixties, two of the four platforms have disappeared under a bus depot and car park, the canopy had gone from the two platform island, but the station still remains one of the most impressive to be seen on any British preserved railway. The station building itself remains intact and its interior has been tastefully refurbished in a contemporary style which doesn't for me distract from its external Victorian magnificence although I understand it's not everybody's cup of tea. The forecourt entrance archway still remains to greet travellers, setting the tone for the whole Victorian travel experience. One bit of advice for enthusiasts is that it isn't possible to reach the platforms to watch the trains unless you are actually travelling, but never mind there are plenty of other locations where it is possible to get up close with excellent photo opportunities too.
My first impression on reaching the platform to board just minutes before departure was the splendid state of restoration of the red and cream late 19th century and early 20th century non-corridor coaches. There was no sign of an engine but 'Caledonia' in its authentic Manx Northern Railway livery complete with MNR number 4 soon backed down from the engine shed. Its livery is an unusual almost brown shade of Tuscan Red and much attention and loving care had been taken to its paintwork and brass, it positively glowed! I had time to take a couple of photos before joining my wife in a compartment near to the engine. 'Caledonia' was originally supplied new from Dubs to work heavy mineral trains on the MNR branch from Foxdale mines workings to St Johns. When the MNR became part of the IMR it was much used for the heaviest trains on the system, including boat trains between Port Erin, Castletown and Douglas.
Early May is probably the best time of the year to take the trip to Port Erin as the lineside woods are full of bluebells and wild garlic and the fields full of young lambs. The scenery is outstanding and nature is much in evidence, we saw pheasants, stonechats, hares and hooded crows from our carriage window. There is much to interest the railway enthusiast on route with picturesque rurally located stations ideal for photography and signals at Castletown which are operated by platform located lever and a ship's wheel like device. There are roadside photo opportunities of the trains also. 'Caledonia', its exhaust barking confidently, easily coped with its four coach train on the steep 1 in 65 to 1 in 70 gradients encountered on the first few miles out of Douglas.
Unlike Douglas there is no problem in gaining access to the platforms for photography at Port Erin, where you can watch locomotives being watered and oiled while standing over between trains. At Douglas they tend to disappear to the unapproachable shed with indecent haste. Port Erin station has an impressive untouched waiting room and an excellent café, while there are shops selling drinks and snacks just across the road. The museum, entrance fee £2 in 2019, is worth a visit. At the time of my visit two locomotives were on display, No 6 'Peveril' complete with brass numerals on it chimney and big 3' 6" diameter boilered No 16 'Mannin'. The latter was by far the most powerful of the Beyer Peacock tanks and it is about to be taken back to Douglas to be restored to service. Its place will be taken by a cosmetically restored No 1 'Sutherland'. Both in common with most of the locomotives carry Indian red livery.
On arriving at Port Erin station for our return trip we saw that No 12 'Hutchinson' was to take our train. It was my first view of a Beyer Peacock 2-4-0T in steam and it looked much bigger than I imagined it would, but then 3' gauge is quite substantial for narrow gauge. Also most of the locomotives have been reboilered with wider chimneys and with slightly larger (3' 3" diameter) boilers than the lower numbered ones that I had seen pictures of originally had.
As with any preserved railway there has been much movement of locomotives from storage to restoration to service and vice versa, and there has been much swopping of boilers and changes from square cabs to curved top original ones. Like 'Caledonia' No 12's presentation was ultra-smart and it coped well with its train on the 1 in 50 incline beyond Ballasalla despite being much less powerful. At Santon I was delighted to see a third engine in steam. An immaculate nonstandard dark green liveried No 13 'Kissack' complete with traditional brass chimney numerals headed a David Williams chartered mixed goods and passenger train. To my surprise it pulled forward then reversed its train on to the rear of ours. The two trains were coupled up and we were to continue our journey to Douglas as a long mixed train top and tailed by two Beyer Peacock tanks!
During a further visit to Port Erin later that week we saw yet another Beyer Peacock, this time No 8 'Fenella'. This 1894 built engine is uniquely still fitted with a small 3' diameter boiler and has brass numerals on its relatively narrow chimney. The whole effect is to make it look much more dainty than its sister locomotives. Incidentally until withdrawn from service in 2015 No 5 'Loch' ran with a small boiler and a bell mouth dome and really must have looked much more like it did when first built in 1874.
Hopefully by the next time I return to the railway in a few years' time No 11 'Maitland', which is currently being restored, and No 16 'Mallin' will have re-entered service and No 1 'Sutherland will be on view in the museum.
Editor's Selection 2:New Book: The Stratford-upon-Avon and Midland Junction Railway a pictorial survey by Stephen Thompson .(SMJ Society)
In 1961 Stephen Thompson, a commercial artist with a passion for railways, set out in his E-Type Jaguar and compiled a photographic survey of the Stratford-upon-Avon and Midland Junction Railway. He set the photographs in notebooks with typewritten captions and after his death the notebooks passed to his nephew who in turn gifted them to the SMJ Society. Hence this book. The SMJ was a grouping of four basket case lines that huddled together for warmth and still never really made money, but it was not useless and gave good services during the Great War when the national interest saw it carrying heavy traffic in iron ore, iron and steel.
With a Foreword by Christian Wolmar
The Stratford-upon-Avon and Midland Junction Railway a pictorial survey by Stephen Thompson is per copy £20.00
Editor's Selection 3.New book on Indian Railways-Rajendra B Aklekar
This is Rajendra B Aklekar's 3rd book centring on Indian railways.
His first two acclaimed books were "Halt Station India" and "India's Railway Man- A Biography of E.Sreedharan."
This third volume-"A Short History of Indian Railways"(with a Foreword by Mark Tully)"is a collation of anecdotes from the 1830s to the Bullet Train and Train 18. History woven through anecdotes on how the railways came to be and flourished and the responses it generated in the society. An uncommon experiment of telling history only through anecdotes with a thin narrative!" (Author's own words!!)
100 Trains….the journey so far….
One epic, and collaborative, voyage. 40 individual train trips.
The Wheelchair Tour of Scotland 2019.

I would prefer to make this journey in one go. However, the progression of my condition now means that I'm limited to about one week away at a time, at most.
Therefore, the tour will be made in two stages (possibly three depending on the future progression of my ataxia).
With each stage being centred around my participation in a specific Kiltwalk. First Glasgow. Followed by Dundee. And possibly Edinburgh too.
The tour will also be train-based. Highlighting the current partnership between MND Scotland and the Scotrail Alliance.
The tour will also showcase the natural beauty, and attractions, of Scotland. Attractions that are easily accessible by rail. Scotland really is very lucky to have some of the most beautiful railway lines, not just in Europe but, on the planet.
Stage 1. Glasgow Kiltwalk, West Highland Railway, Isle of Skye, Inverness, Edinburgh.
Stage 2. Stirling, Dundee Kiltwalk, Aberdeen, Inverness, Thurso/Wick.
Stage 3 (possible). Falkirk, Borders, Berwick-upon-Tweed, Edinburgh Kiltwalk.
---
A Wee Bit of Personal History:
I was diagnosed with spinocerebellar ataxia in 2015.
Although I was told that I would eventually need to use a wheelchair (I now do), I could still walk quite well at that stage – although with the, increasing, need of a walking stick.
So I used my final walking days to raise funds and awareness of this rare condition (I raised £1,100 during previous "walking" events – the longest of which was a 500 mile walk in Spain).
Now though, the progression of my ataxia means that my wings have been clipped somewhat. So all future fundraising can only be in Scotland from now on (and even closer to home in Ayrshire in the future perhaps?).
I have chosen MND Scotland as the beneficiary this time. Ataxia is so rare that there is no Scotland-specific charity for the condition, but it has similarities to MND: a neurological condition affecting motor abilities – and similarly incurable at present.
And it is this "at present" which is so important.
If a cure can be found, it will be found. But only as a result of medical research. Which requires funding.
So, to do "my bit"….
https://glasgowkiltwalk2019.everydayhero.com/uk/ataxiascot
Steam Tube is now found on Facebook….and whoever wishes may post their latest videos and photographs for all to see and share. The Facebook page has now had over 1,000 likes! And Rail Tube, a 24/7 rolling railway news blog has 1,500 plus likes! So, please feel free to add to the pages, and lets make Steam Tube live up to its ambitious tag line (which was what was added after the first video and photograph was uploaded!!)-"Steam Tube – The Home of Steam On The Net!
A selection of uploaded videos and images below…
60163 (C) Joseph Edward Barnard
'Tornado'. 60163 on "The Cornishman" at Hele and Bradninch station in Devon (Jack Thompson)
For one weekend the E.V.R. had two ex main line locos on the railway. 52322 was returning to the East Lancs railway following the event. Brought in from the Great Central Railway was 78018 to haul trains during the Summer.(Clive Town)
Steam Tube Blogs.
Over the past year we have been able to share some excellent blogs, notably "Steam Age Daydreams"..and there have been other contributors Chris Eden Green, Ronik24, Chris Spencer and Dick Bodily to name but a few ..
Please feel free to alert us to any other steam related blogs that will help build a significant historical resource for others to enjoy.
Tornado…The Story so far…
2019

Saturday 6th July – 'The Dart & Torbay Express' – Birmingham to Kingswear and return – Pathfinder Tours
Sunday 14th July – 'The Pembroke Coast Express' – Bristol to Tenby and return – Pathfinder Tours
Saturday 20th July – 'The North Briton' – London and East Coast stations to Carlisle via the Settle and Carlisle Railway and return – bookings through UK Railtours
Thursday 1st August – 'The Aberdonian' – Edinburgh to Aberdeen and return – bookings through UK Railtours
Sunday 4th August – Linlithgow to Tweedbank and return – Scottish Railway Preservation Society
Thursday 8th August – 'The Aberdonian' – Edinburgh to Aberdeen and return – bookings through UK Railtours
Sunday 11th August – Linlithgow to Tweedbank and return – Scottish Railway Preservation Society
Saturday 17th August – 'The North Briton' – London and East Coast stations to Carlisle via the Settle and Carlisle Railway and return – POSTPONED UNTIL 28th SEPTEMBER
Saturday 31st August – 'The Aberdonian' – Edinburgh to Aberdeen and return – bookings through UK Railtours

The Trust respectfully requests that anyone wanting to see Tornado follows the rules of the railway and only goes where permitted.
60163 Tornado passing through Stratford Parkway at 1650 on return leg to Manchester Piccadilly with "The Bard of Avon" Rail tour,Saturday 23rd March 2019.
New & ReBuild News.
(Click on Image!)
B & O Railroad Museum TV
Each month the B&O TV Network, starring actor Michael Gross, spotlights a moment in B&O Railroad history. Take a journey into the past and view one or all of these episodes posted on YouTube.
Mainline Steam Schedule
This listing is offered in good faith, so there is no guarantee offered or implied.Please confirm running with the relevant tour operator.
And adhere, please, to Network Rail's photographic guidelines…..HERE
The tour schedule for July 2019..…and beyond…can be found at Railway Herald

On This Day in History.
July
01/07/1904
The Great Western Railway of England introduces the express train between London Paddington and Penzance in Cornwall which becomes known as the Cornish Riviera Express
01/07/1908
Public inauguration of Midland Railway Lancaster–Morecambe–Heysham electrification system (6.6 kV A.C. at 25 Hz), the first overhead wire scheme on a passenger railway in England
03/07/38
"Mallard" Gresley A4…set new world record speed of 126 mph over 300 yards near Peterborough,(Driver Duddington, Fireman Bray from Doncaster) Over 5 miles maintained an average of 120 mph.
04/07/1881
Darjeeling Himalayan Railway opened throughout to Darjeeling, India
04/07/1953
On 30th June 1953, the first 'The Cornishman' express ran between the Midlands and the West Country, travelling over what was to become the Gloucestershire Warwickshire Railway
http://www.gwsr.com/news/latest-news/on-this-day.aspx
05/07/1931 Bournemouth Belle all Pullman service introduced.
05/07/32
The first main-line electric express runs from London Bridge station to Three Bridges in Sussex
05/07/37
UK: The "Coronation Scot" breaks record from London to Edinburgh.
06/07/1978 1978
Eleven die in sleeper train inferno. Eleven people have been killed and seventeen injured in a blaze on the Penzance-to-Paddington sleeper train.
Early reports suggest that the fire was started by a discarded cigarette or an electrical fault near one of the top bunks in a second-class compartment.
An attendant pulled the emergency cord on the 2130 from Penzance and the train stopped, half a mile from its next scheduled halt at Taunton, Somerset at 0248 BST (0148 GMT).
08/07/59 British Rail given the go ahead to raise fares by 50%
15/07/07
Munich: Experimental train reported to average 81 mph and reaching 98mph maximum.
15/07/1913
Opening of the Bern-Lötschberg-Simplon railway in Switzerland, including the 14.6 km (9 mi) Lötschberg Tunnel
16/07/1927
Opening of Romney, Hythe and Dymchurch Railway on the English Channel coast (8.25 mi (13 km) of 15 in (381 mm) gauge)
An RH&DR locomotive retired to Fawley Hill…
19/07/1931
Sudbury Town station on London Underground Piccadilly line opens as rebuilt by Charles Holden, the first of his iconic modern designs for the network
19/07/00 Paris Metropolitain (or metro underground system) opens.
A Paris Metro Map.
19/07/1926 Atlantic Coast Express introduced. Leaves Waterloo at 11am for Devon and Cornwall destinations.
20/07/1874
The Somerset and Dorset Railway opened their northern extension from Evercreech Junction to Bath , to a junction with the Midland Railway half a mile from Bath station.
21/07/1904 The Trans-Siberian railway is completed.
23/07/1952
A £350,000 order from the National Coal Board for steam locomotives has been secured by the Hunslet Engine Co. Ltd., of Leeds. The locomotives are for shunting and marshalling at pitheads. The contract will spread over five years, and during the period the company will be working on a previous order from the N.C.B. for 12 locomotives and another order for 14 from the Ministry of Supply. (Yorkshire Post)
28/07/1914
Compagnie Internationale des Wagons-Lits announces that due to the assassination of Archduke Franz Ferdinand of Austria this day at Sarajevo, the Orient Express will terminate in Bucharest and not go on to Constantinople
April to July 1932
Intermittent operation of Ro-Railer between Blisworth and Startford-upon-Avon and the Welcombe Hotel.
26/07/1910
The London and South Western Railway introduces a new Continental service, Southampton-Havre.
26/07/1803
Surrey Iron Railway (Wandsworth to Croydon) opens.Double tracked and horse operated.
27/07/1905
The Hall Road rail accident near Liverpool in England kills 21 people
Radstock to Frome Railway Project
Welcome to The Radstock to Frome Railway Trust and the Radstock to Frome Railway Project. We are a charitable organisation with the primary aim of assisting the reopening of the redundant railway line between Radstock and Great Elm (near Frome), with the aspiration at a later stage to extend the railway back to Frome junction and reconnect with the national rail network.
This is a community interest venture, and in order to succeed need your support. We are currently discussing the project with other interested parties to maximise the support and our capabilities to make a success of this project.
Radstock is a town has a fine industrial heritage and a bright future ahead. The Radstock to Frome Railway Trust is committed to assisting the opening of the railway as a valuable resource for the community. A designated section of the former railway land (inside Area 3) has been set aside for the possible reinstatement of a rail link there. Our organisation will maximise Radstock's potential as a tourist destination, situated between and near the historic cities of Bath and Wells, and play an instrumental part in reviving the local economy.
However, we are unable to do all this without your help and kind generosity. On the 2 nd October 2014 The Somer-Rail Trust was registered by the Charity Commission as a charity in England and Wales (1158749). As a group we are steadily increasing in number and would appreciate your help and support moving forward with this project, if you can assist us please don't hesitate to get in touch.
Our Facebook/Twitter group pages are an excellent way to share memories, and view photographs (old and new) of the line. The Trust's quarterly newsletter 'Along the Lines' includes all the latest developments and a background history of the railway.
Thank you for your interest in the Radstock to Frome Railway Project.
Christian Wolmar… Railway Historian.
Christian Wolmar is a regular speaker at conferences, meetings and seminars both in the UK and abroad on transport and, specifically, rail matters. He often speaks at conferences on the latest development in the rail and transport industries and gives lectures on all his rail history books
Christian gives around 30 talks per year and has spoken all around the country, as well as in Belgium, Netherlands, Germany, Denmark, France, the United States and Australia where he has twice been invited to provide his expertise. He has given two lectures at the Royal Geographic Society.
Latest Book: The Story of Crossrail
Around the UK's Heritage Railways A – Z "W" Here
30742 Charters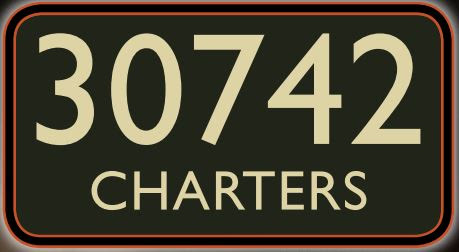 Back Page:
The End of the World Train (Top photos taken 28th June 2019-
via Shaun McMahon)