SWR and GWR working together to boost confidence of adults with learning difficulties travel by train.(SWR)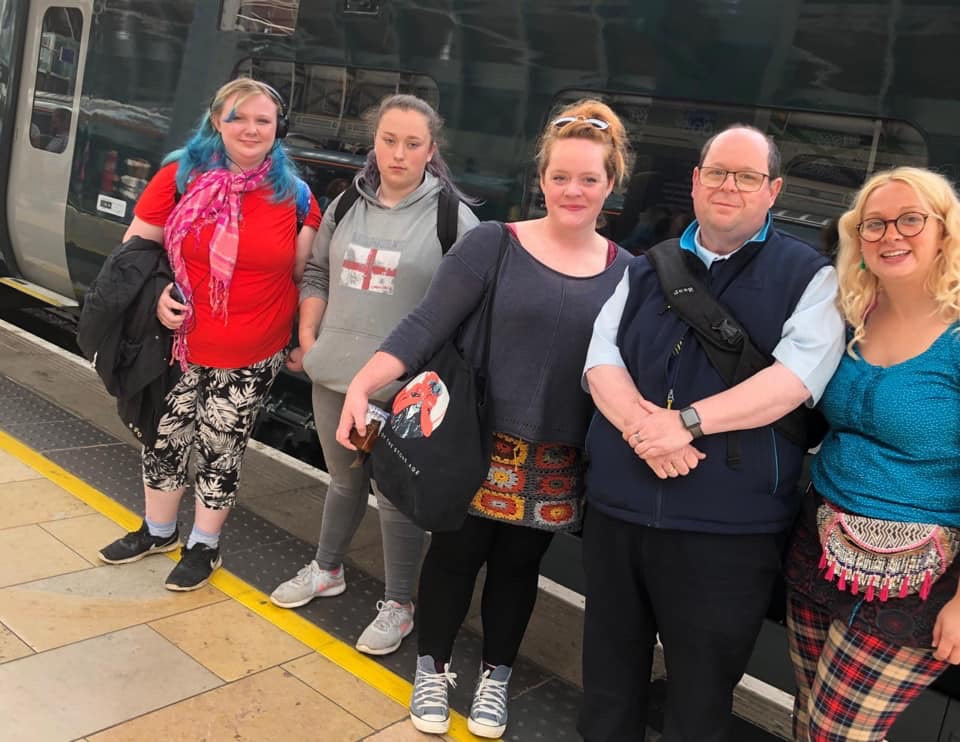 South Western Railway brought its positive Try the Train programme on board Great Western Railway services, offering adults with learning disabilities the chance to build their confidence when travelling by train and visit a London theatre for the first time.
The idea came about when Turning Tides (a not-for-profit organisation, which believes that everyone has the right to equal access to music and the arts) and the Devon & Cornwall Rail Partnership contacted SWR to see if the operator's Community Ambassadors, a group of volunteers set up specifically to provide unique Try the Train trips, could assist with a trip to London's Globe theatre.
The initial plan was that Richmond-based Community Ambassador Brian Reece would meet the group at Exeter St David and travel on a SWR service to Waterloo.
Despite plans being scuppered by industrial action, Brian worked with GWR's Community Rail Manager, Emma Morris, to arrange travel into Paddington. He then assisted the group to take their first trip on the tube, before meeting them after their theatre visit and escorting them back to Exeter.
Brian said:
"This is exactly what our Try the Train programme is all about – giving people their first trip on a train, helping to improve their confidence. We aim to help people travel to somewhere they would benefit from, and although usually that's a local area, it's lovely that we were able to help the Turning Tides group access a location they might not have been able to otherwise. Although it was a long day, I was delighted to be able to help support them in making their first rail trip. I would also like to thank GWR for helping us make this journey possible."
Emma Morris, Community Rail Manager from Great Western Railway, said:
"GWR is dedicated to supporting the communities it serves. We are delighted to have been able to help Turning Tides, and the work they do to help people take full advantage of the benefits rail travel can bring."
Abigail Innocent, Session Leader for The Turning Tides Project, said:
"It was such an excellent day, before the journey Brian sent us pictures of what the tube looked like so we knew in advance. He was also very adaptable on the day and relaxed with plans potentially changing. It was a really pleasant experience and has given us all confidence to use trains in the future."
Chloe, who was supported by Abigail on the day and is an aspiring playwright and law student, said:
"Brian was extremely helpful and informative. He went above and beyond to assist us and help with any queries. Travelling with someone from SWR made us all feel more safer and made the day feel less daunting."
SWR has over 30 Community Ambassadors, staff who volunteer to go beyond their duties by providing support to those who do not currently travel by train. It involves meeting at a station, touring the facilities, and making a train journey. This is the first time the operator has worked with others, and there are plans for future trips with other modes of transport included.
In the year since the establishment of the programme, SWR has delivered 26 trips, 60% above its initial target. This has included providing trips to those with physical and learning disabilities, youngsters, new mothers, and even trainee assistance dogs. The efforts of the team have recently been recognised with a shortlisting in the Customer Service Excellence category of the National Rail Awards.