S-Bahn distinguished environmental project: School "Green Campus Malchow" plans Berlin's largest Insektenhotel.(Deutsche Bahn)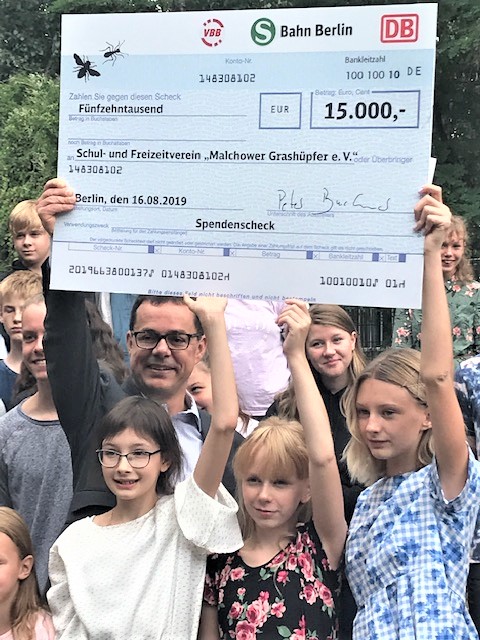 This insect hotel is a real palace for wild bees, butterflies, beetles and worms: nine square meters of area, more than two meters high. It will be built on the Green Campus Malchow.
The environmental school, which sees itself as "educational institutions for sustainable development", had applied in May with its convincing concept for the S-Bahn Berlin for the tender of the environmental and social project of the year – and won!
Today, S-Bahn CEO Peter Buchner presents a check in the amount of 15,000 euros. So that the school can implement their ideas quickly into action. After the autumn holidays students of the 8th grade, the Welcome class and the Bee AG intend to begin construction.
Peter Buchner:
"An insect hotel of this size provides a variety of six- and eight-legged the necessary habitat that has been lost, among others, by monocultures and soil sealing. So we were excited about this project and are pleased to be able to make a small contribution to nature conservation with the money. "
In the hotel made of wood, branches, bark and moss residents in the winter are yet to move in. About 20 cubic meters of space have the animals. A roof will protect against rain.
Headmaster Tobias Barthl:
"Here are all the insects to butterflies, spiders and reptiles welcome from the bee."
However, the money gained flows not only in the establishment of the insect hotels, but also the Bee AG will benefit from it and of belonging to the school children's farm "tots Farm".
Environmental and social project of the year will be put out to tender since 2018 from the S-Bahn Berlin during the due contractual performance Verkehrsverbund Berlin-Brandenburg (VBB) on behalf of the states of Berlin and Brandenburg and in cooperation with the company Ströer.